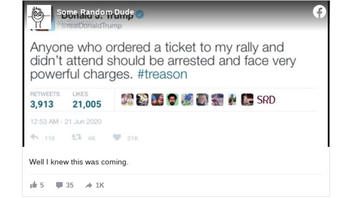 Did President Trump threaten by Twitter that people who ordered tickets to his Tulsa rally but failed to attend should be "arrested and face very powerful charges," suggesting it was treason. No, that's not true. The president, while constantly active on Twitter, did not make such a threat through the social platform. There is no record of such a tweet.
The claim appeared in a post (archived here) published on Facebook, on June 21, 2020, by a user who goes by "Some Random Dude. " The text "Well I knew this was coming" introduced the fake tweet, which read:
Anyone who ordered a ticket to my rally and didn't attend should be arrested and face very powerful charges. #treason.
This is what the post looked like on Facebook at the time of writing:
(Source: Facebook screenshot taken on Mon Jun 22 12:49:49 2020 UTC)
The post, put up on Facebook the day after the Trump rally in Tulsa that had a much lower turnout than expected, claims the tweet -- which appears nowhere on the president's timeline, or in archives of live and deleted tweets -- got 3,913 retweets and 21,005 likes. It was supposedly posted under @realDonaldTrump, the president's actual Twitter handle.
But a seach of ProPublica's database of deleted tweets, called Politiwhoops, failed to produce such a message from the president. So did a search on the president's Twitter account and Trump Twitter Archive.
The only wording close to the fake is this from June 19, the day before the rally -- which officials had said had sold about 1 million tickets:
Any protesters, anarchists, agitators, looters or lowlifes who are going to Oklahoma please understand, you will not be treated like you have been in New York, Seattle, or Minneapolis. It will be a much different scene!

-- Donald J. Trump (@realDonaldTrump) June 19, 2020
He also posted this the night of the rally, appearing to show a packed house at the rally:
THE SILENT MAJORITY IS STRONGER THAN EVER BEFORE! #MAGA pic.twitter.com/AoIcroQUQd

-- Donald J. Trump (@realDonaldTrump) June 21, 2020
Trump sent eight tweets on June 21, and none of them were at the 12:53 a.m. timestamp of the faked tweet. The closest tweet in terms of timing was a Father's Day wish under his name:
June 21, 2020
According to The New York Times on June 22, attendance at the rally was just over 6,000 people -- nowhere near filling the arena. The article also mentions the possibly that many young people took to TikTok to buy tickets without ever planning to attend the rally -- something the president's campaign manager denied -- instead blaming the media for creating coronavirus fears and not reporting the truth:
6,200. That was the total attendance at President Trump's rallyin Tulsa, Okla., on Saturday, according to the Fire Department. Before the event, his campaign manager had announced close to one million sign-ups, and the president was anticipating an overflow crowd. Instead, at his first major rally since the onset of the pandemic, Trump spoke to an arena that wasn't even half full. He was stunned by the lack of turnout, advisers said.

Hundreds -- if not thousands -- of young people with no intention of actually attending the rally organized online to sign up for tickets as a prank, aiming to inflate turnout expectations. Representative Alexandria Ocasio-Cortez wrote on Twitter that the Trump campaign "just got ROCKED by teens on TikTok." Steve Schmidt, the Republican strategist turned Trump foe, tweeted: "The teens of America have struck a savage blow against @realDonaldTrump."
Here is the full statement of the Trump 2020 campaign manager:
Leftists and online trolls doing a victory lap, thinking they somehow impacted rally attendance, don't know what they're talking about or how our rallies work. Reporters who wrote gleefully about TikTok and K-Pop fans - without contacting the campaign for comment - behaved unprofessionally and were willing dupes to the charade. Registering for a rally means you've RSVPed with a cell phone number and we constantly weed out bogus numbers, as we did with tens of thousands at the Tulsa rally, in calculating our possible attendee pool. These phony ticket requests never factor into our thinking. What makes this lame attempt at hacking our events even more foolish is the fact that every rally is general admission - entry is on a first-come-first-served basis and prior registration is not required. The fact is that a week's worth of the fake news media warning people away from the rally because of COVID and protestors, coupled with recent images of American cities on fire, had a real impact on people bringing their families and children to the rally. MSNBC was among outlets reporting that protesters even blocked entrances to the rally at times. For the media to now celebrate the fear that they helped create is disgusting, but typical. And it makes us wonder why we bother credentialing media for events when they don't do their full jobs as professionals.'

- Brad Parscale, Trump 2020 campaign manager"