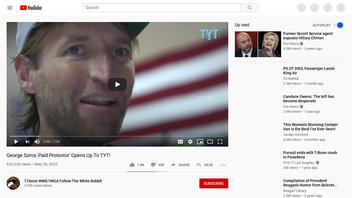 Was a man serious when he told a journalist that George Soros invited him to lunch, paid him by personal check to protest, and made him rich? No, that's not true: A video of the "paid protester" is a 3-year-old spoof, according to the man who conducted the faux interview and posted the original two-minute video. Furthermore, the man featured in the video reached out to Lead Stories after we published an earlier version of this story to identify himself and say, "Thanks for setting the record straight."
The video clip of the satirical interview reappeared in a YouTube video (archived here) published on May 30, 2020, by an apparent QAnon believer as massive protests spread across the nation in response to George Floyd's death while in police custody. It was titled:
George Soros 'Paid Protester' Opens Up To TYT!
Here's how the video appeared when it resurfaced:
When the original video published on TYT, or The Young Turks, a progressive media outlet, in 2017, its title included a question mark:
George Soros 'Paid Protester' Opens Up To TYT?!
Here's how the original post appeared online:
Journalist Michael Tracey, then with TYT, told Lead Stories that the"paid protester" was not being serious when Tracey interviewed him and then posted the original two-minute video on March 21, 2017. Tracey, who didn't identify the interview subject, said the clip was meant to be a spoof and that the subject was making a mockery of Soros-related conspiracy theories.
In the video, the unnamed man struggles to stifle laughter and stumbles as he begins to improvise his words. He then explains that prospective protesters who want to make money need to just go to GeorgeSoros.com, sign up with their names and email addresses, indicate how often they can protest and write down what they want to get paid. (There is no place to sign up to get paid for protesting at that website, by the way.) The man says his checks are signed by Soros and went further, adding:
He even invited me to lunch. He said if I'm willing to gather some more friends, I can get paid like twice as much for every friend that I gather and kind of set up a pyramid scheme.
When Tracey says, "You can get rich just based on protesting for Soros," the man responds, "I already have."
Tracey, who left TYT two years ago and now works as an independent journalist, told Lead Stories in an email exchange that the video was shot on March 18, 2017, at a town hall meeting in Grass Valley, California, that was hosted by U.S. Rep. Doug LaMalfa, a California Republican.
Tracey provided a link to a tweet from the event. He then described his interaction with the man he jokingly interviewed:
I immediately interpreted the man's behavior as a spoof, and as you can tell by watching the video, played along. It was abundantly obvious to me right away that he was engaged in a "schtick" intended to MOCK the notion that there was a widespread plague of Soros-backed "paid protesters" overrunning town hall meetings. After the video went up, I even posted a clarification video making it 100% clear that the video was satirical.
That video he posted on March 21, 2017, to offer clarification was longer than the video it was clarifying. It was titled:
Was That Weird Guy Really A "Paid Protester"?
Tracey explained in the clarification video how he initially connected with the "paid protester." Tracey also mentioned that he'd stirred up a lot of reactions, including death threats, in response to posting the video, which drove him to post another video offering explanation. In it he said:
If you couldn't see that that was satirical or that was meant to be facetious, then I don't know what to tell you. You need to work on your discernment. ...

Just so everybody's clear, that guy was definitely kidding around. ... He wasn't being serious, okay. He's not a paid protester. His intention and my intention in conducting that interview was to mock the notion that paid protesters are a real thing in any meaningful sense.
People are apparently circulating this old interview I did with a "paid protester" who said he was funded by George Soros. The guy was obviously trolling! It was a schtick. Anyone who actually believes this was authentic is incredibly gullible, lol