STORY UPDATED: check for updates below.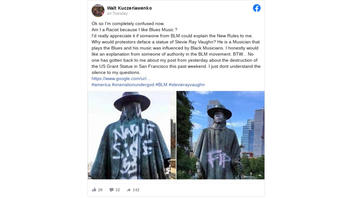 Was Austin's Stevie Ray Vaughan statue vandalized in 2020? Yes, that's true, but a viral image of paint on the rear side of the Vaughan memorial is from a 2018 incident blamed on a football fan after his team won the SuperBowl. A second photo showing "FTP" painted on the music icon's chest was apparently the result of a May 2020 attack.
The claim appeared in a post (archived here) where it was published by a Facebook user on June 23, 2020. It opened:
Ok so I'm completely confused now.




Am I a Racist because I like Blues Music ?




I'd really appreciate it if someone from BLM could explain the New Rules to me. Why would protestors deface a statue of Stevie Ray Vaughn? He is a Musician that plays the Blues and his music was influenced by Black Musicians.
This is what the post looked like on Facebook at the time of writing:
(Source: Facebook screenshot taken on Thu Jun 25 23:30:45 2020 UTC)
This Facebook post insinuates that the statue was recently defaced as Black Lives Matter protests swept the U.S. The graffiti on the front of the statue reads "FTP," an abbreviation for the phrase "F*** the police." That tagging apparently was done on May 30, 2020, but there is no proven connection to protesters. The second image showing graffiti on Vaughan's back is from February of 2018, however.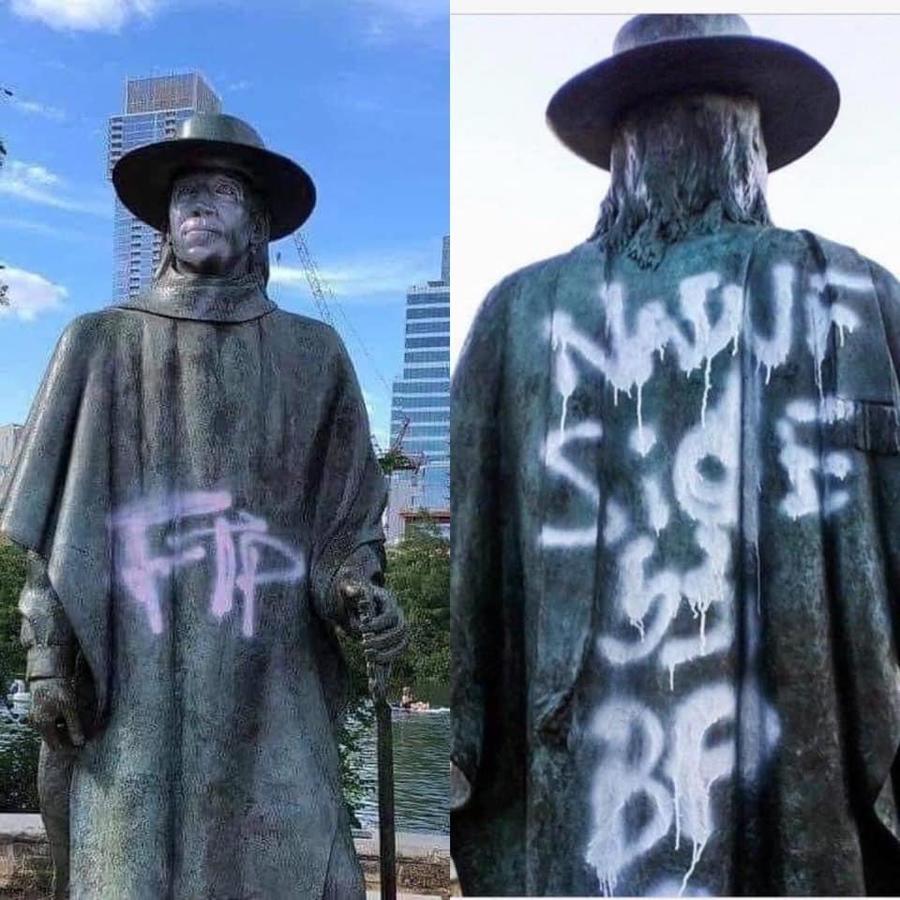 The January 2018 attack was allegedly carried out by a rabid Philadelphia Eagles fan after the teams SuperBowl victory.
Although Stevie Ray Vaughan died in a helicopter crash at 35, he is still one of the most celebrated blues musicians today. During his career, he was the guitarist for the blues rock band, Double Trouble.
Some of the posts about Vaughan also included the claim that the Jimi Hendrix statue in Seattle was vandalized in 2020. It was not. See Lead Stories' debunk titled Fact Check: Jimi Hendrix Statue In Seattle Was NOT Vandalized In 2020
2020-06-26T02:17:33Z

2020-06-26T02:17:33Z

Clarifying there was a 2020 vandalism incident, but one image used as evidence of a recent attack was from 2018.