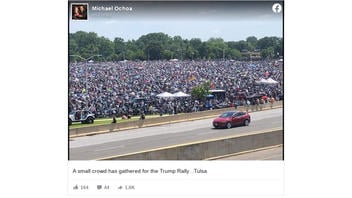 Was this photo taken outside a rally for Donald Trump in Tulsa, Oklahoma, on June 19 or 20, 2020? No, that's not true: This photo shows the staging area for the Rolling Thunder Motorcycle Rally for POW/MIAs. Pictured is the north parking lot at the Pentagon Memorial in Arlington, Virginia, before June 2019.
The claim began appearing on social media on June 19, 2020. One example is a post published by Michael Ochoa on June 19, 2020, (archived here) with following text:
A small crowd has gathered for the Trump Rally ..Tulsa
This is what the post looked like on Facebook at the time of writing:
Another example was posted by Ted Nugent (here)(archived here) on June 20, 2020:
The text in the meme comparing two photos reads:

A JOE BIDEN 'RALLY' THIS WEEK:
LINE FOR TODAY'S TRUMP RALLY: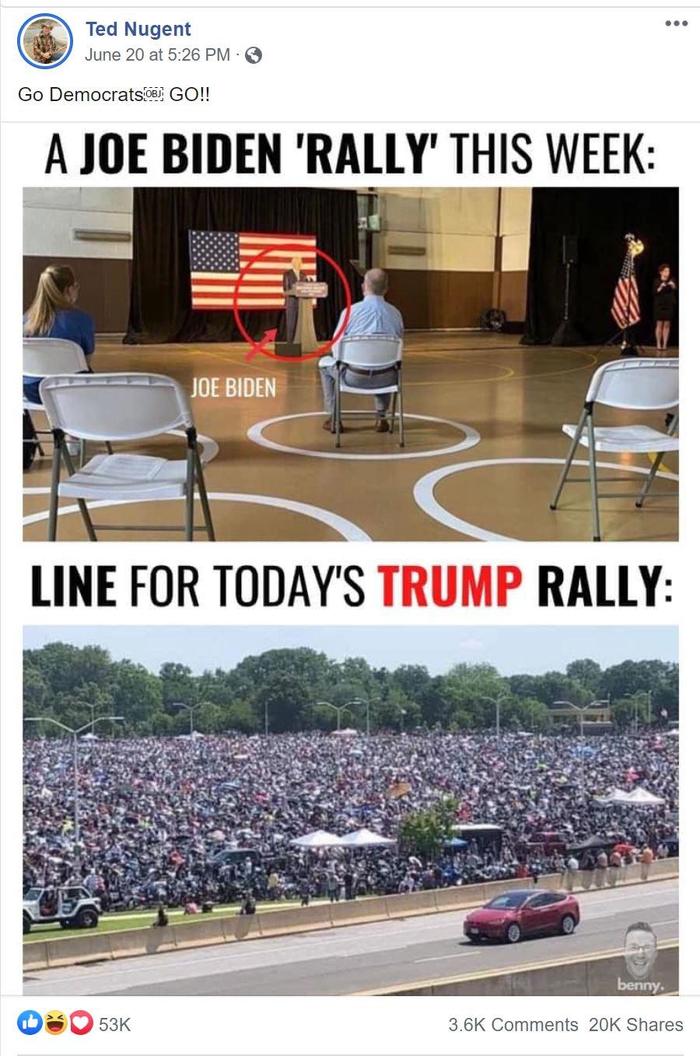 While Lead Stories was not able to locate the source of the exact photograph used in the meme that falsely identified this as the gathering crowd for the Tulsa, Oklahoma, Trump rally, we were able to locate the vantage point the photographer had in Arlington, using GoogleStreetview (here). This view of the north parking lot is elevated above Route 110 from the South Washington Blvd. overpass. This gives the proper height to achieve this perspective where both lanes of the highway and the grass area are visible above the median.

We were able to locate two photographs of this scene with the same identifying crowd features taken by two different photographers.
Both of these photos were shared with the public by the "Rolling Thunder Washington, DC Inc." Facebook page.

This photo by Jennifer E. Berry (here)(archived here) and this photo by MSgt Rob Wilkins, USAF, Ret. (here)(archived here) were both shared by the Rolling Thunder Washington, DC Inc. page on May 29, 2019. Although the date the photos were shared does not confirm the date the photos were taken, we know this crowd was photographed on or before Memorial Day weekend 2019. The most recent Rolling Thunder rally to be held in the Washington metro area was in 2019.


In both of these images a white Jeep with no doors is parked in the grass near a pop up awning with a gold cover. A black truck can be seen parked near a pair of white awnings near an enclosed black trailer. Out in the middle of the crowd, a tan colored beach umbrella is visible. Compare with the image in the meme:

The meme bears the watermark "benny." Benny Johnson posted the meme to his Facebook page (here)(archived here) and to his Instagram account (here)(archived here). Benny Johnson is the chief creative officer at Turning Point USA. He advertised a campus speaking tour on his Facebook page, "Benny Johnson" (here)(archived here)
The promotional image was captioned:
🇺🇸🚨PUMPED TO BE EMBARKING ON MY 1ST CAMPUS TOUR! 🚨🇺🇸

I will be spreading the gospel of 'How To Win The Meme War' on multiple college campuses this Spring! Our youngest political consumers engage with the political world on the battlefield of the viral images and videos - let's learn how to win! Tens of Millions of Americans are educated through political memes online every day. It's information warfare - and conservatives are winning. This is a hilarious, hands-on workshop for the politically nerdy and culturally engaged. Bring your best memes! 🙏🏻