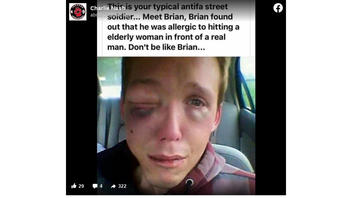 Does the photo of a badly battered face circulating on social media belong to an Antifa member named Brian who got beaten up for hitting a woman? No, that's not true. The photo is of a young man attacked in 2015 in what police said was an assault by a former friend. A spokesman for the Corinth, Mississippi, police told Lead Stories it was not related to Antifa, or an attack on a woman. Moreover, the man in the photo is named Devin, not Brian.
The claim appeared in a post published on Facebook on June 20, 2020 (archived here). It featured the photo purported to be Brian, with following text:
This is Brian.
Brian is an Antifa street rioter.
Brian has an allergy.
Brian is allergic to hitting a woman in front of a REAL MAN.
Don't be like Brian.
The post which was originally set to public, but the setting was apparently changed to private. This a screenshot of what the post looked like June 22, 2020: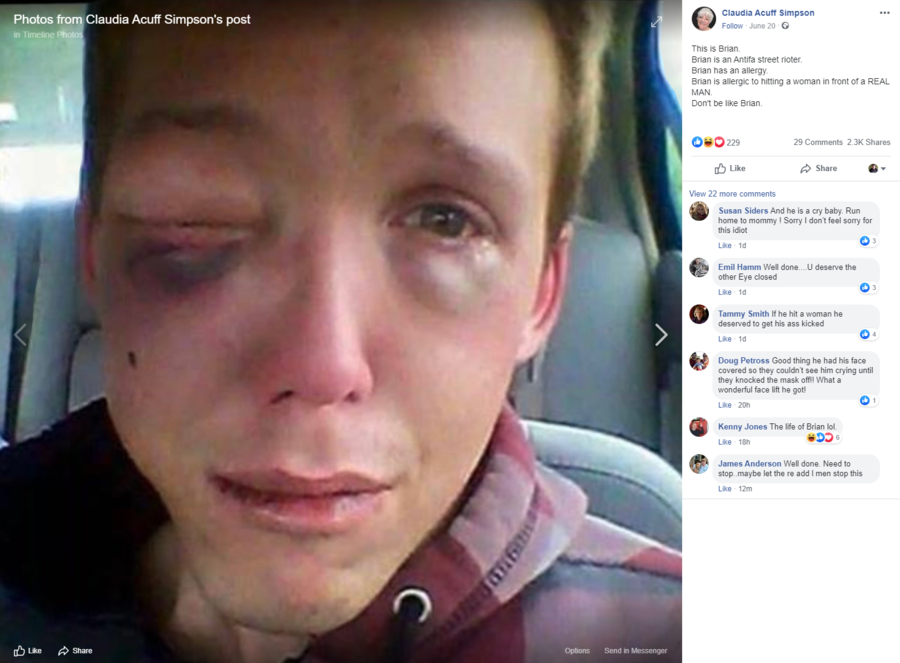 This is a similar post, shared in the form of a meme, shared on Facebook. This post called "Brian" an "Antifa street soldier" and claimed the woman he attacked was elderly:
(Source: Facebook screenshot taken on Mon Jun 22 21:57:57 2020 UTC)
The photo and taunt drew comments such as "And he's a crybaby, too. Run home to Mommy," and "Well done ... you deserve the other eye closed."
The real attack on Devin Norman took place just outside a Corinth, Mississippi, Walmart and led to the arrest of James David Scott, 23, according to a report in the March 22, 2015, edition of Towleroad.
Scott, a resident of Tishomingo County, Mississippi, reportedly punched and kicked Norman, breaking several facial bones, and then fled the scene of the attack. Corinth Police Chief Ralph Dance captured him as he was going over the Walmart fence, he told Lead Stories, and charged him with assault. At first, Scott said that Norman had directed an offensive post towards him on social media. According to Chief Dance:
The alleged Facebook post was apparently sexual in nature. Later investigations showed that the two had been involved and Norman was threatening to out Scott on Facebook. So Scott got angry and assaulted Norman."
News of the attack circulated on Facebook back then with a very different message from the 2020 version about Antifa. A post from March 21, 2015, stated:

"This is Devin Norman, a 26-year-old from Corinth who was beaten in a Walmart parking lot because he is homosexual. The local DA is charging the attacker with assault, but this is obviously a hate crime motivate by sexual orientation. Mississippi has no hate crime protection for sexual orientation, however the right pressure and show of support can turn this into a federal matter."
The post goes on to give the phone numbers for various law enforcement officials to contact and show Norman support.
Although the story is not archived, it was in the 2015 local newspaper.
"The attack made the front page of the Daily Corinthian," says editor Mark Boehler, who recalls "that happened long before now."
Scott pleaded guilty to simple assault and paid a fine, according to the clerk of the city court.