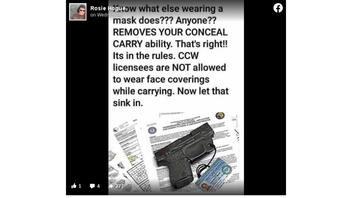 Does wearing a face mask remove your ability to legally carry a concealed weapon? No, that's not true: Laws vary by state, but authorities in several states have issued guidance making it clear that their law does not prohibit someone from lawfully carrying a concealed weapon while wearing a mask to help to stop the spread of COVID-19. Lead Stories could find no examples where it would be illegal.
The claim appeared in a post (archived here) on Facebook on June 24, 2020. It read:
Know what else wearing a mask does??? Anyone?? REMOVES YOUR CONCEAL CARRY ability. That's right!! Its in the rules. CCW licencees are NOT allowed to wear face coverings while carrying. Now let that sink in.
This is what the post looked like on Facebook at the time of writing:
(Source: Facebook screenshot taken on Mon Jun 29 15:37:05 2020 UTC)
Although wearing a mask to hide one's identity is illegal in some states in certain obvious situations -- while committing a crime, for example -- that's not what we're talking about here. We're talking about wearing a mask for the purposes of public health, as this sheriff in Humboldt County, California, has stressed. Sheriff William Honsal said:
Penal Code 25300(a) only applies to those persons who are carrying weapons while masked to hide their identity ... If you are lawfully carrying your weapon while following the guidance from the Public Health Officer, to wear a mask for protection against COVD-19, then you are not in violation.
Authorities in other states have similarly addressed the confusion around masks and concealed carry permits.
In Macon County, Illinois, for example, the state's attorney's office wrote this on Facebook:
To clear up any uncertainties, the position of the Macon County State's Attorney's Office is that Concealed Carry License holders are not in violation of state law for carrying concealed while wearing proper masks in public during the COVID-19 pandemic. Carry on!
Social media users saw this:
In Marion County, Oregon, the sheriff's office posted on Facebook, saying:
Since the Phase 2 guidelines for Marion County were announced, we've received quite a few calls from people with Concealed Handgun Licenses who were concerned due to rumors it was unlawful to wear a mask while lawfully carrying a concealed weapon. Oregon law DOES NOT prohibit someone from wearing a mask while lawfully carrying a concealed weapon. Instead of letting the rumor grow, we genuinely appreciate people taking time to call and ask questions.
Social media users saw this:
Finally, the South Carolina Law Enforcement Division said this:
There is no South Carolina Concealed Weapons Permit (CWP) law that prohibits a South Carolina CWP holder from wearing a mask to comply with a city or a county health ordinance or to help stop the spread of COVID-19 while carrying a concealed weapon in South Carolina.
Anne Teigen, who covers state firearms policy for the National Conference of State Legislatures, offered a broader perspective. She told Lead Stories that 18 states and the District of Columbia have provisions prohibiting masks in certain situations. But that "these provisions in state law do not have anything to do with concealed carry, they are prohibitions in general for wearing a mask."
In North Carolina, for example, it's against the law to wear a mask in public, according to the Nash County Sheriff's Office. But authorities there have no plans to arrest anyone wearing a mask and lawfully carrying a concealed weapon, so long as that person isn't committing a crime. Here's what the sheriff's office wrote on Twitter:
Normally it is against the law to wear a mask in public. In light of the recent events with the pandemic and mask mandate, we will not be arresting anyone for wearing a mask & carrying concealed as long as they're carrying legally and not committing a crime.
*Edited for clarity

-- Nash County Sheriff (@NashCountySO) June 24, 2020
Bottom line, it is not illegal to wear a mask while lawfully carrying a concealed weapon.