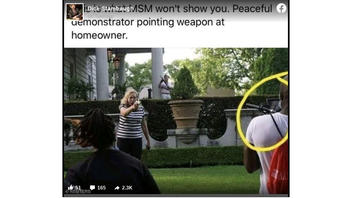 Did a protester point a gun at the "Karen and Ken" couple who were pointing weapons at marchers during a demonstration in St. Louis? No, that is not true. A photograph showing Patricia and Mark McCloskey holding guns pointed at peaceful protesters walking past their property shows a person holding a professional boom microphone pointed at the couple, not a gun. Reuters, the photography agency that owns the image, clearly states in the caption that the man in the photo is holding a microphone and video camera, not a weapon.
The claim appeared as a post (archived here) where it was published by Facebook on June 30, 2020. It opened:
This is what MSM won't show you. Peaceful demonstrator pointing weapon at homeowner.
This is what the post looked like on Facebook at the time of writing:
(Source: Facebook screenshot taken on Fri Jul 3 19:53:23 2020 UTC)
The photograph was taken on June 28, 2020, in St. Louis, Missouri, as demonstrators walked by the McCloskeys' home in their gated community on the way to a protest at St. Louis Mayor Lyda Krewson's home.
The post says the man on the lower right of the photo is holding a "weapon" that he is pointing towards the McCloskys. It is not a weapon. He is holding a microphone and a video camera which is visible to the right of the long microphone and shows a screen.
The picture is owned by Reuters agency and has their watermark on the lower left side of the photograph. The image is for sale on their website here.
The Reuters caption describes what the man in the image is holding:
Patricia McCloskey and her husband Mark McCloskey draw their firearms on protestors, including a man who holds a video camera and microphone, as they enter their neighborhood during a protest against St. Louis Mayor Lyda Krewson, in St. Louis, Missouri, U.S. June 28, 2020."
This is what a professional boom "shotgun" microphone looks like: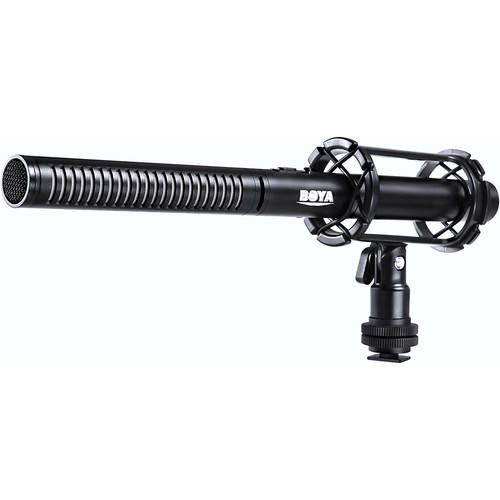 Here is the video that went viral of the McCloskeys pointing weapons at the protesters as they marched by their house.
A couple has come out of their house and is pointing guns at protesters in their neighborhood #StLouis #lydakrewson pic.twitter.com/ZJ8a553PAU

-- Daniel Shular (@xshularx) June 29, 2020