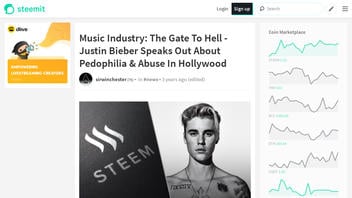 Did Justin Bieber speak out about pedophilia and abuse in Hollywood? No, that's not true. A story that was first published in 2017 is going viral again, claiming Bieber dropped a bombshell claim that he quit his tour and took a break from the music industry because he was being encouraged to participate in a sick sexual act with a young boy. There is no proof that he ever made those claims at the time or since then.
The story orginally appeared as an article (archived here) where it was published by Steemit.com in 2017 under the title "Music Industry: The Gate To Hell - Justin Bieber Speaks Out About Pedophilia & Abuse In Hollywood." It opened:
Recently, Justin Bieber was all over the news for abruptly cancelling the rest of his "Purpose" world tour.
While his fans and media were angry at him, he never stated a reason for his decision publically - and now, it seems like we finally know the real reason.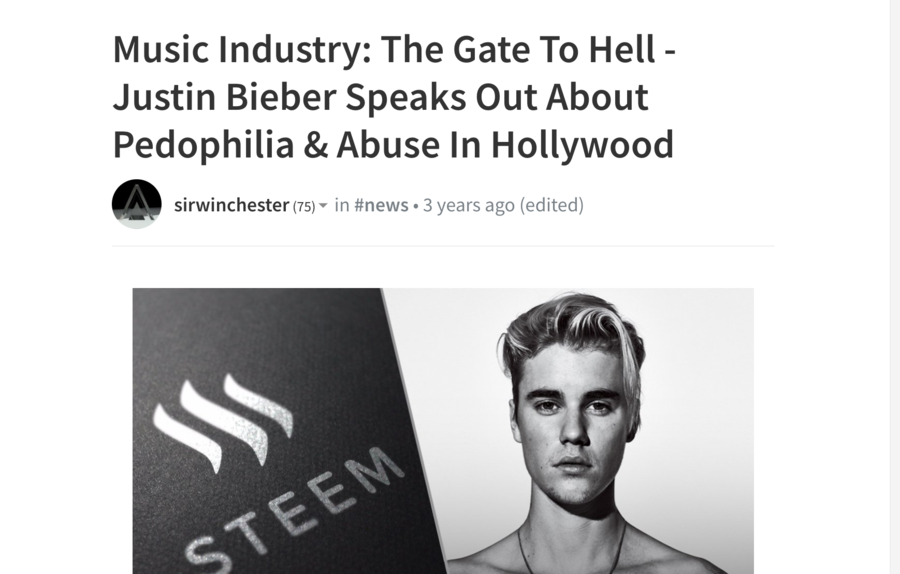 One thing that is true in the article is Bieber did cancel his Purpose tour in 2017, Rolling Stone reported at the time. He said at the time "everything's fine" and that he was looking forward to "just resting and getting some relaxation I'm sorry for anyone who feels, like, disappointed or betrayed, it's not in my heart."
However, the lurid tale claims Bieber confessed to a church group the real reason why he was leaving the music industry is because he was almost forced to sexually abuse a child -- but there is nothing that was published in 2017 or in the years since that substantiates these claims.
The article stated: "A young boy had been brought to the party for the sexual gratification of the industry elite, and he was encouraged to sexually abuse it." These are the "quotes" falsely attributed to Bieber.
"I didn't want to do this. I really didn't. They said this kid was drugged, it was horrible," Bieber said, explaining that it was made clear to him that he would gain entry to the 'business side of the industry' if he 'joined the club' by passing the initiation rites.
"I wouldn't just be a performer, I'd be a mogul. That path would open up for me, like it did for Jay-Z.
It's the difference between being a millionaire and being a billionaire."
Snopes.com noted in 2017 that the quotes from Bieber were not published anywhere in mainstream media. A google search shows that they have not been published anywhere since then either.
Here are more gruesome claims from the article:
As shocking as these details are, they really show the dark side of the music industry.
Justin was encouraged to take his career to the next level and 'join the club', just like Jay-Z and many others.
Although he had heard rumours about these kinds of rituals in the industry, Justin stated that he hadn't been confronted with it before on a personal level.
"To join the club I'd have to do bad things to this poor kid. But then I realized that even that wasn't enough for them. I'd also have to kill this little child. They said this kid was raped by a few different guys. They said he was bleeding. I got out of there but I heard he died and that haunts me."

Steemit.com is a blockchain-based blogging and social media website, and several other non-reputable sites picked up the false quotes from Bieber in 2017 even turning it into a YouTube video filled with the unsubstantiated false claims:

These "quotes" from Bieber continue to make the round on social media as copypasta -- posts with the exact same wording -- as recently as July 16, 2020, as you can see here:
and also here
and here,
but they have no evidence backing up the claim that the quotes are real years after the first story went up.
Lead Stories has recently debunked similar claims concerning other Hollywood celebrities:
Fact Check: Mel Gibson NEVER Said Hollywood Is Controlled By 'Parasites' Who Are Involved In Child Sacrifice And Pedophilia
Fact Check: Robert Downey Jr. Did NOT Blow The Whistle On Purported Hollywood Pedophile Ring