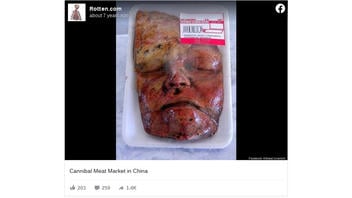 Does this photo feature a severed human face being sold at a cannibalistic meat market in China? No, that's not true: This is a photo of a Thai baker's hyper-realistic bread sculptures of bloody human body parts. His terrifying loaves have been covered by news outlets like The Associated Press, Buzzfeed, Huffington Post, and CNN.
The claim appeared in a post (archived here) where it was published on Rotten.com's Facebook page on February 7, 2013. The caption read:
Cannibal Meat Market in China
This is what the post looked like on Facebook at the time of writing:
(Source: Facebook screenshot taken on Wed Jul 22 14:19:01 2020 UTC)
Rotten.com used to post misleading and gruesome content on its website and Facebook page, but both have been dormant since late 2018. Although the photo in question was posted on Rotten.com's Facebook page over seven years ago, it recently gained traction on social media.
CNN reported in a 2010 story on the baker, Kittiwatt Unarrom:
Since 2006, Kittiwat has used dough as his medium, making a name for himself with his edible creations molded to look like bloody body parts, including heads, arms, feet and legs.
Buzzfeed had this to say:
...Kittiwat creates feet, hands, heads, and internal organs among other body parts all entirely edible and for sale at his family's bakery. He skillfully paints each piece to look terrifying to the observer/customer.
The photo that is wrongly claimed to be from a Chinese market can be found here, in a series of photos of Unarrom's other grusome baked goods.