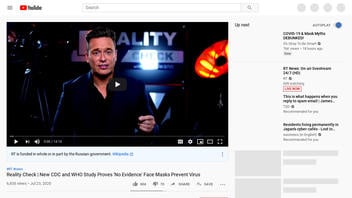 Does a new CDC and WHO study prove there is no evidence that face masks prevent the spread of the novel coronavirus? No, that's not true. The study is not "new" as claimed in a Russian-sponsored YouTube video and it does not conclude that face coverings don't help in reducing the transmission of the virus that leads to COVID-19. The research cited was published by Chinese scientists -- not the CDC or WHO -- in February 2020, a month before WHO declared the COVID-19 pandemic, not in May 2020 as claimed by video host Ben Swann.
The claim is in a video (archived here) published on the RT channel on YouTube on July 23, 2020, under the title "Reality Check | New CDC and WHO Study Proves 'No Evidence' Face Masks Prevent Virus." The text below the video read:
Facebook's so called "fact checkers" have struck again, claiming that my report on the science that proves that wearing facemasks, especially in non-medical settings does almost nothing to prevent the spread of a virus, is false... citing that it was based on old information. Now, I'm reporting on a new study created in conjunction with the World Health Organization and published by the CDC from less than 60 days ago that once again proves that there is no evidence that wearing face masks in public prevents the spread of flu-like viruses. I'm also going to show you why the Facebook fact-checking system cannot be trusted.
Click below to watch the YouTube video:
This video was a direct response to a Lead Stories article titled Fact Check: Video Claiming 'Multiple Scientific Studies' Show Masks Don't Work Uses Old Data, Ignores Current Science On COVID-19 that debunked an earlier RT video.
Here is a screenshot of the Lead Stories' article RT was calling out: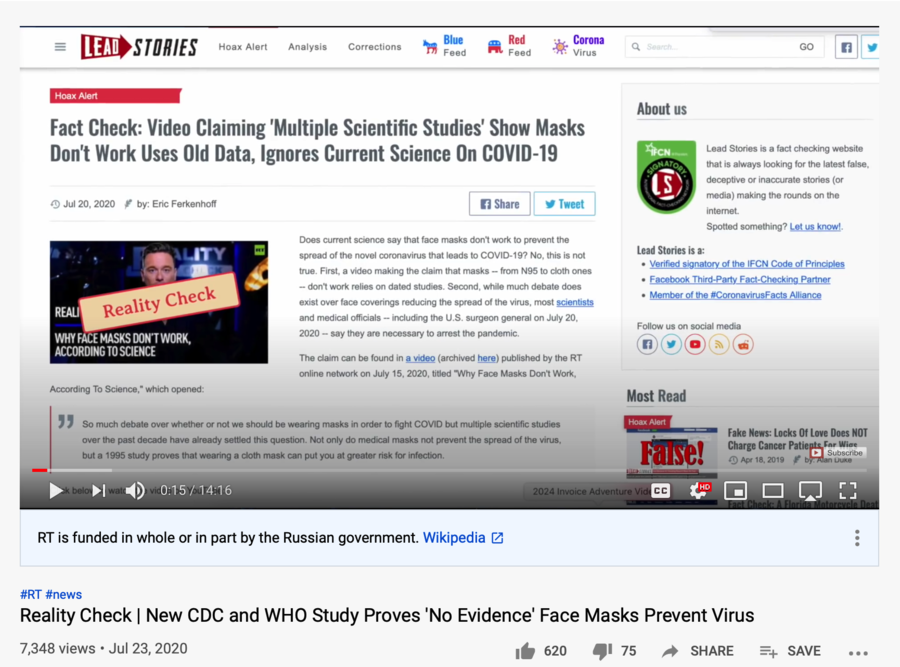 This video, which runs about 14 minutes, is posted on the RT YouTube channel. YouTube added a notice below the video informing viewers that RT, which was previously called Russia Today, "is funded in whole or in part by the Russian government," with this link. (In 2017, the Department of Justice determined that RT helped Russia interfere in the 2016 U.S. elections, and forced the outlet to register as a foreign agent, according to POLITICO.)
The host Swann went to work for the Russian operation after he was fired from Atlanta's CBS News station, CBS46, in January 2018 after concluding that Swann often "veered into alt-right conspirarcy theories," including a 2017 report on "PizzaGate," the unfounded conspiracy theory claiming Hillary Clinton and other high-ranking Democratic officials were engaged in a human and child sex trafficking ring. That report led to Swann's "first suspension and the removal of his Truth in Media website and most of his social media platforms," according to the Atlanta Journal-Constitution:
Echoing right-wing conspiracy sites, he has questioned everything from the origins of ISIS to the veracity of the Sandy Hook elementary school shootings to whether Russia was actually involved in the DNC email hacks.

His Truth in Media site was connected with the Republican Liberty Caucus at one point. Before joining CBS46, he worked for Russia Today, an international television network funded by the Russian government.

He appeared in 2013 on InfoWars where he talked about Democrats wanting to take your guns and how irrelevant mainstream media is."
Swann's new video contains multiple falsehoods, and Swann actually argues with his own statements as the video goes on. His conclusion changes from the top of the video, in which he claims to have proof from the CDC and the World Health Organization (WHO) that masks do nothing against COVID-19, to the second half -- when he acknowledges much debate exists about the efficacy of masks. In effect, he defeats his own argument.
Here is a quote from the beginning of the video. Right at near the top, at 21 seconds, he says:
Well, guess what today we're going to show you a study that isn't old. In fact it's not even a year old, not even six months old. It's not even 60 days old, and yet it's a study from the CDC and the WHO that proves face masks do not prevent the spread of a virus."
Two things are wrong with this section. First, the study that Swann claimed was published in May 2020 was first published (as noted on the study) on February 6, 2020 -- as the outbreak was just beginning to widely spread from China, and more than a month before WHO declared a global pandemic. See the date of the study in the screenshot below of a section of the study, which is on the same page as the "discussion" upon which Swann relies:

Additionally, this study was not produced by the CDC and WHO. This, from CDC spokesman Jason McDonald:
The article you referenced was authored by scientists from the University of Hong Kong. There are no CDC authors who were part of the referenced article.

The conclusions, findings, and opinions expressed by authors contributing toEmerging Infectious Diseases do not necessarily reflect the official position of the U.S. Department of Health and Human Services, the Public Health Service, the Centers for Disease Control and Prevention, or the authors' affiliated institutions...Current [CDC] guidance is to wear masks."
Last, this study never "proved" masks don't work. The authors did not find evidence they do work, but didn't "prove" they don't work. In fact, when other resources are "stretched," the study found that masks "might" have value:
We did not find evidence that surgical-type face masks are effective in reducing laboratory-confirmed influenza transmission, either when worn by infected persons (source control) or by persons in the general community to reduce their susceptibility (Figure 2). However, as with hand hygiene, face masks might be able to reduce the transmission of other infections and therefore have value in an influenza pandemic when healthcare resources are stretched."
Swann then makes a passing reference to a Brigham Young University study at 9:39 in the video -- a study that was published July 19, but updated July 21. Here's Swann's reference:
There's a brand new study that just came out of BYU that says that wearing a face mask is important and it can help."
The study did more than that. Here is the executive summary of the BYU study, which looked at 115 studies on the face-mask issue and sought to put complicated science into everyday terms for people to understand the importance of masks (emphasis in the below is from the orginal document):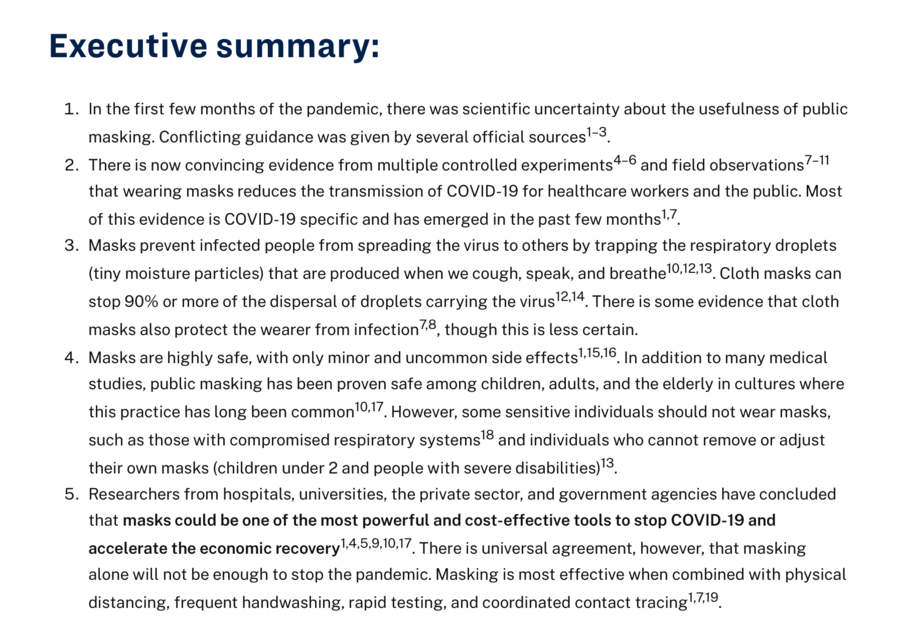 And with that, the RT argument turns against itself. A few seconds later, at 9:43, he says:
We're not saying that those studies don't exist what we're saying is there is a conflict of information here, and that is deeply significant. Why? Because it shows that, if nothing else, the science is not settled here. It means that there is a clear debate over whether or not face masks actually work in preventing the spread of the virus. There is no foregone, ultimate conclusion that has been made."
At 13:28, he begins wrapping up the video with a similar statement, but also takes aim at Facebook, Lead Stories and fact checkers in general. He says the media has made mask-wearing not about safety or science, but rather about "compliance":
Again, the science is not settled here, but for Facebook to pretend that it is, and for those who are an authority to pretend that it is without acknowledging that there is a difference in terms of interpretation of studies, there is a difference in what these studies are finding -- without recognizing that, in short it means that this debate is absolutely not about science, and it's not about health. And it is about compliance."
One of the studies left out of the video that finds masks have an effect in reducing the spread of the virus is found here. The Wall Street Journal, on July 18, ran this piece, titled "Face Masks Really Do Matter. The Scientific Evidence Is Growing," with this subead: "New research suggests that face coverings help reduce the transmission of droplets, though some masks are more protective than others."
Among other studies, the Journal cites this one from Florida Atlantic University from June 2020. Among other things, it found:
Research from Florida Atlantic University's College of Engineering and Computer Science, just published in the journal Physics of Fluids, demonstrates through visualization of emulated coughs and sneezes, a method to assess the effectiveness of facemasks in obstructing droplets. The rationale behind the recommendation for using masks or other face coverings is to reduce the risk of cross-infection via the transmission of respiratory droplets from infected to healthy individuals."
It includes this video produced by the university and posted to YouTube on June 30, 2020:
As for fact-checking partners not offering an avenue for those flagged for posting false or misleading information on Facebook, Swann's claim is without merit. The publisher's help page details the appeals process which allows a content creator to make the case for a rating revision:
RT could appeal the fact check conclusions by Lead Stories, but has not.
Lead Stories reporters Chelsea Carter and Helena Cavendish contributed to this report.