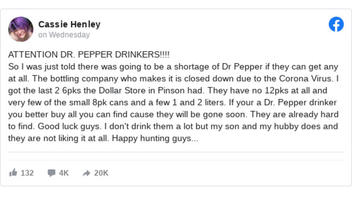 Is there about to be a shortage of the soft drink Dr Pepper because of the novel coronavirus pandemic? No, there is not. The parent company of the Dr Pepper maker assured Lead Stories that production of the soft drink is "smooth," although a shortage of aluminium cans may mean store shelves may have fewer cans in stock.
The claim appeared in a text post (archived here) on Facebook dated July 22, 2020 under the title "ATTENTION DR PEPPER DRINKERS!!!!" It opened:
So I was just told there was going to be a shortage of Dr Pepper if they can get any at all. The bottling company who makes it is closed down due to the Corona Virus. I got the last 2 6pks the Dollar Store in Pinson had. They have no 12pks at all and very few of the small 8pk cans and a few 1 and 2 liters. If your a Dr. Pepper drinker you better buy all you can find cause they will be gone soon. They are already hard to find. Good luck guys. I don't drink them a lot but my son and my hubby does and they are not liking it at all. Happy hunting guys...
This is what the post looked like on Facebook at the time of writing:
Dr. Pepper was acquired by coffee company Keurig in 2018. Keurig Dr. Pepper consumer relations officer Jean Carlos told Lead Stories:
We find out about these glitches when people call us because here, everything is in production and smooth. It is not a problem of supply. I just got off the phone with a customer in New York who could not find Dr Pepper in aluminum cans. This has been going on since Covid started.
Possibly, aluminum production is slowing distribution, Carlos said.
There is no problem in Birmingham, Alabama, says Leann Fonte, distribution manager for bottler Buffalo Rock. She told Lead Stories:
There is no shortage of Dr. Pepper foreseen. The supply is as regular as it always was.
Lead Stories searched the national news outlets next to see whether there is a national trend toward less Dr Pepper. No shortfalls have been reported in Bloomberg.com, Forbes.com and Fortune.com, the usual financial news outlets.