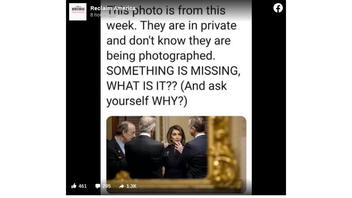 Does a photo show House Speaker Nancy Pelosi and other Democratic leaders in Congress talking without masks or at a safe social distance in July 2020? No, that's not true: The photograph used to support this claim was taken on December 18, 2019, months before the novel coronavirus, social distancing and masks entered daily American conversations.
The claim appeared as a meme in posts like this one (archived here) shared on July 30, 2020, on Facebook. The photo showed a maskless Pelosi huddled with Democratic Reps. Adam Schiff, Eliot Engel and Richard Neal. The text under the photo read:
This photo is from this week. They are in private and don't know they are being photographed. SOMETHING IS MISSING, WHAT IS IT?? (And ask yourself WHY?
This is what the post looked like on Facebook at the time of writing:
Many commenters accepted the post as truth and weighed in with their outrage.
Collectively, there is an absence of a single complete human brain in this picture.

They are not fooling anyone! They are not wearing masks or social distancing because they've known about virus prevention and the cure all along.

They are bunch of liars,,, they play dirty games on people to control the people,,, LOOK AT THEM NOT WEARING MASKS WHILE THEY FORCE IT ON THE PEOPLE,,, ###TYRANTS###
Others questioned whether the photo was current -- and rightfully so.
The image was taken by an Associated Press photographer on December 18, 2019. The AP highlighted the fact vs. fiction about this photograph on this AP Images website page, which read:
FILE - In this Wednesday, Dec. 18, 2019 file photo, House Speaker Nancy Pelosi of Calif., center, speaks with House Intelligence Committee Chairman Adam Schiff, D-Calif., right, House Foreign Affairs Committee Chairman Eliot Engel, D-N.Y., left, and House Ways and Means Committee Chairman Richard Neal, D-Mass., second from left, in a private room just off the House floor after the House votes to impeach President Donald Trump on Capitol Hill in Washington. On Friday, July 17, 2020, The Associated Press reported on this photo circulating online incorrectly asserting it shows the lawmakers without masks in mid-July 2020. The photo was taken in December 2019 before the first known case of coronavirus was reported in the U.S. (AP Photo/Andrew Harnik)
And it wasn't just the AP that called out this misinformation. Even far-right Breitbart pointed out this fake news in a July 17, 2020, post titled, "NOT REAL NEWS: A LOOK AT WHAT DIDN'T HAPPEN THIS WEEK."