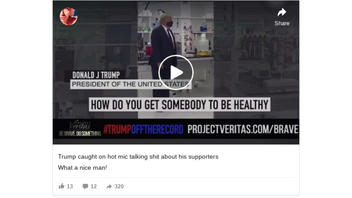 Did President Donald Trump get caught trashing his supporters on video? No, that's not true - it is a parody. A viral video showing Trump wearing a mask and speaking crudely about his supporters, calling them "animals" and "The Hills Have Eyes people," was not made by Project Veritas but is a video made by a fan using comedian JL Cauvin's Trump impersonation from his podcast. "I guess if I did a crappier impression people would get the joke sooner," Cauvin told Lead Stories.
The story appeared as a post (archived here) where it was published on Facebook on July 30, 2020. It opened:
Trump caught on hot mic talking shit about his supporters ...
This is what the post looked like on Facebook at the time of writing:
(Source: Facebook screenshot taken on Fri Jul 31 15:49:45 2020 UTC)
Social media users were outraged by the president's quotes.
Holy shit balls! WATCH THIS!!!! Trump was caught on a hot mic talking bad about his own supporters.

"They're balls deep in their sisters."

What a deplorable man. Truly. #NobodyLikesTrump pic.twitter.com/m8QbbgSXd1

-- Rajiv Singh (@RajivSi86412039) July 30, 2020

Here is a transcript of what Trump "says" and that is captioned on the video:
I can't say health reasons these people don't care about their health so you have to say "patriotism" so I say "patriotism" and hopefully some of them wear a mask I don't really care as long (unintelligible) As long as they're here to vote so I have to say "be a patriot" that's motivating these animals OK? The people I call "The Hills Have Eyes" people. If I say "health" how do you get somebody to be healthy when they're balls deep in their sister shooting Mountain Dew in their veins and snorting opioids while watching "Tiger King" for the 45th time."

Comedian Cauvin confirmed to Lead Stories that he made the comments while impersonating Trump on his Making Podcasts Great Again podcast on July 21, 2020. A fan then condensed about two minutes of the episode and made the video.
"Plenty of people get that it is a parody (the fan has parody in his twitter handle) and plenty of people are impressed but some people think it is harmful," Cauvin said. "I guess if I did a crappier impression people would get the joke sooner."
He also spoke to the Associated Press, telling them, "I think the video legitimately fooled people."
This is the original footage of Trump visiting FUJIFILM in North Carolina on July 27, 2020. Here are photos from the Associated Press from the president touring the facility.
Here is video footage from CBS 17 in Raleigh Durham of the president at FUJIFILM.

As the video went viral with users sharing it claiming it was Trump, many thought it was made by Project Veritas, a conservative outlet that publishes hidden camera videos.
The video uses the Project Veritas logo at the bottom.
"They've used our branding and our logo but clearly it is fake," Eric Spracklen from Project Veritas told Lead Stories.
Here is another video of Cauvin impersonating Trump titled "The Trump GOYA Food Fight."