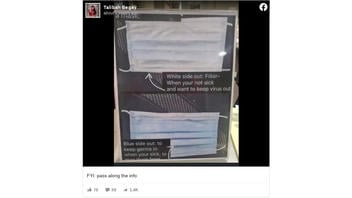 Do the white and blue sides of surgical masks serve different purposes? No, that's not true. The only correct way to wear the mask is with the blue side facing out, according to a instructional video released by the World Health Organization. This false claim states that wearing the blue side out is meant to keep viruses inside to protect others while wearing the white side out is meant to protect a healthy wearer from viruses.
The claim appeared in a post (archived here) where it was published by on Facebook on July 20, 2020 under the title. It read in part:
White side out: Filter- When your not sick and want to keep virus out. Blue side out: to keep germs in when your sick
This is what the post looked like on Facebook at the time of writing:
(Source: Facebook screenshot taken on Fri Jul 31 15:05:31 2020 UTC)
Each layer of the surgical masks serves a different purpose that is most effective when worn with the colored side out and the white in. The inner white layer is absorbent and meant to capture particles that are produced when the person wearing the mask speaks or coughs. The outer colored layer is "fluid-repellent" and meant to reduce the chance that viruses and bacteria can attach to the mask, according to Smart Air, a social enterprise that provides air purifers to combat air pollution.
This is the WHO video that shows how to wear a surgical mask:
Wearing the surgical masks with the white side out does not protect oneself from viruses more than wearing the blue side out. In fact, wearing them with the white side out was shown to be slightly less effective in an experiment conducted by Smart Air.
We did not find any authoritive references to wearing the white side toward the outside.
Healthline has a comprehensive guide on how to correctly wear a surgical mask.