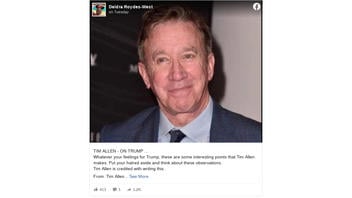 Did actor and comedian Tim Allen write a conservative statement that listed a number of seemingly contradictory statements aimed to bash Democrats? No, that's not true: The statement was posted by a different Tim Allen, not the Tim Allen who voiced Buzz Lightyear in all the Toy Story movies.
The claim appeared in a Facebook post (archived here) where it was published on August 25, 2020. It opened:
TIM ALLEN - ON TRUMP ...
Whatever your feelings for Trump, these are some interesting points that Tim Allen makes. Put your hatred aside and think about these observations.
Tim Allen is credited with writing this.
This is what the post looked like on Facebook at the time of writing:
(Source: Facebook screenshot taken on Thu Aug 27 19:44:52 2020 UTC)
The post continued:
From :Tim Allen
Here are some interesting points to think about prior to 2020, especially to my friends on the fence, like moderate Democrats, Libertarians and Independents and the never Trump Republicans and those thinking of "walking away" from the Democratic party.

Women are upset at Trump's naughty words -- they also bought 80 million copies of 50 Shades of Gray.

Not one feminist has defended Sarah Sanders. It seems women's rights only matter if those women are liberal.
The claims made in the statement itself is out of the scope of this fact check.
Parts of the text in this post have been circulating since April 2019, according to Snopes' fact check on the same claim. The longer statement now circulating on Facebook was likely misattributed to the actor Tim Allen when a Facebook user with the same name posted the statement.
Allen's manager told Reuters, who conducted a fact check on the same claim, that the posts are not from Tim Allen his client.
Allen has never publicly endorsed Trump and he did not post this statement.