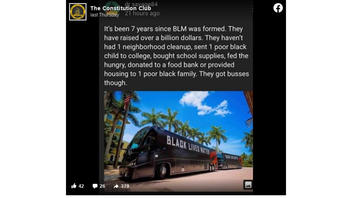 Did Black Lives Matter buy two new luxury buses with money donated to the movement? No, that's not true: The black luxury buses with "BLACK LIVES MATTER" written in large letters on the sides belong to the Toronto Raptors basketball team and were wrapped with a Black Lives Matter message for their trip to the "NBA bubble" in Orlando, Florida.
The claim appeared in a meme in a post (archived here) shared by the Facebook page "The Constitution Club" on July 30, 2020. The meme appeared to be a screen capture from a "dr savage84" post. The meme showed the two buses with text that read:
It's been 7 years since BLM was formed. They have raised over a billion dollars. They haven't had 1 neighborhood cleanup, sent 1 poor black kid to college, bought school supplies, fed the hungry, donated to a food bank or provided housing to 1 poor black family. They got busses though.
This is what the post looked like on Facebook at the time of writing:
(Source: Facebook screenshot taken on Wed Aug 5 16:23:35 2020 UTC)
The verified Twitter account of the Toronto Raptors posted photos of the wrapped buses on July 9, 2020.
The Raptors President, Masai Ujiri, was interviewed on "NBA on TNT" and an article on that interview appeared on Yahoo Sports on July 24, 2020. In the article, titled "Draymond Green questions why Raptors put Black Lives Matter on team bus," (archived here), he explained:
For us, we said we were going to use the bubble as a statement. We said we're going to use this place as a platform," Ujiri said. "We thought that coming in here, you have to make a statement, you have to, for me, you have to create awareness. What you guys are doing over there is creating awareness, you're talking about this. We have to continue to do that.

"We thought what greater way than to ride through Florida for three hours and show people, we know what's going on in the country, and we're heading to the bubble. What is going on here, what Adam Silver has done here to get the league back, we're excited about that but there's something on our minds, too. We wanted to show people that as we come in, not just the Toronto Raptors, we represent the NBA. That there's something on the minds of all the players and all the teams.
Silence is not an option. pic.twitter.com/qpn8sMo2nu

-- Toronto Raptors (@Raptors) July 9, 2020
The graphics on the rear of the buses are from the Raptors' team logo. Memes including photos of the buses and critical of BLM began to appear on Facebook on July 24, 2020. The earliest version we found, according to CrowdTangle, finished with the sentence, "Where is the money going other than to buy huge charter buses to transport members to riots!" Two days later a modified version appeared without the last sentence referring to the buses transporting rioters. The latest incarnation, "They got busses though." appeared on July 30, 2020.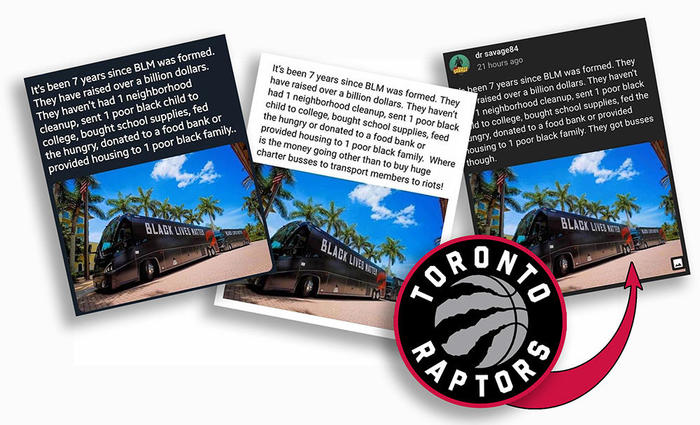 Update August 31, 2020:
A different group of memes have sprung up using photos of the two wrapped buses parked in a bus yard alongside many other charter buses. Only two of the buses have the custom wrap that had been designed for the Toronto Raptors. On July 21, 2020 APNews.com issued a fact check (here)(archived here) titled, "Tour buses were transporting Toronto Raptors, not protesters" which explains that the buses were parked at this yard and remained there ever since they transported the Toronto Raptors basketball team.
A tweet from 'Truth Is Freedom' on July 19, 2020 (here)(archived here) pointed out the large number of buses:
At a truck stop in Ft. Lauderdale Florida. Notice the number and immense cost of the custom buses bringing in Black Lives Matter and Antifa Rioters. This is huge money and organization. @realDonaldTrump This should be attacked by going after those with the deep pockets.
A facebook post from August 29, 2020 (here) (archived here) shows a screenshot including four photos and the caption:
Trucker at the 595 truck stop in Ft Lauderdale, FL posted these pics. BLM and ANTIFA busses with armed guards. Heavily organized.
Two of the buses have the Black Lives Matter wrap, others have the logo of a charter company and many othes do not have any graphics visible in the photos.