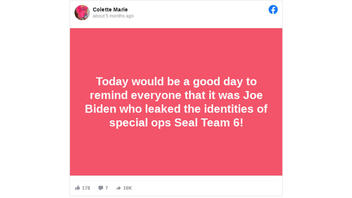 Did Joe Biden leak the identities of SEAL Team 6 members? No, that's not true: Though he publicly praised the SEALs for the operation that killed Osama bin Laden, he did not identify members of the elite unit by name.
The claim appeared in a post (archived here) on March 4, 2020. It read:
Today would be a good day to remind everyone that it was Joe Biden who leaked the identities of special ops Seal Team 6!
This is what the post looked like on Facebook at the time of writing:
(Source: Facebook screenshot taken on Thu Aug 13 13:46:07 2020 UTC)
The allegation appears to stem from a speech that Biden gave to the Atlantic Council, a foreign policy think tank, on May 3, 2011. Just two days prior, on May 1, then-President Barack Obama announced that U.S. forces had killed bin Laden, the leader of al Qaeda.
Biden praised that operation in his speech, which can be watched here:
Around the 3:42 mark, he said:
I'd be remiss also if I didn't say an extra word about the incredible events, extraordinary events this past Sunday. As vice president of the United States, as an American, I was in absolute awe -- awe -- of the capacity and dedication of the entire team, both the intelligence community, the CIA, the SEALs. It just was extraordinary.
Later, around the 5-minute mark, Biden said:
It was a staggering undertaking and there was no one else, I believe, other than an American group of military warriors who could do it.
At no point in the speech did Biden mention members of the SEAL team by name -- nor did he identify the team involved in the bin Laden raid, Team 6. (It's worth noting that by the time Biden spoke, various media outlets had already identified the SEALs as the force behind the operation.)
Several months later, an American Chinook helicopter was shot down by the Taliban in Afghanistan. Thirty-eight people were killed, including 15 Navy SEALs from Team 6, making it the deadliest moment in SEAL Team 6 history. The incident caused some to question the Obama administration's handling of information around the bin Laden raid. They claimed that the SEALs were targeted because the team had been outed as the one involved in the operation. Questions surrounding the event prompted an investigation.
But there is no evidence to support the claim that the attack was targeted -- just like there is no evidence supporting the claim that Biden identified members of SEAL Team 6.