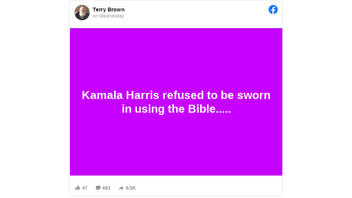 Did Kamala Harris refuse to be sworn into office using a Bible? No, that's not true: A video of Harris being sworn into office as a U.S. senator on January 3, 2017, clearly shows a Bible was used. There is no evidence that any of her previous oaths -- including for California attorney general -- were not done using a Bible.
The claim was made in a post (archived here) shared on Facebook on August 12, 2020. It read:
Kamala Harris refused to be sworn in using the Bible.....
This is what the post looked like on Facebook at the time of writing:
(Source: Facebook screenshot taken on Sat Aug 15 20:41:03 2020 UTC)
Still photographers are not allowed on the senate floor, but Biden and Harris re-enacted the ceremony off the floor -- using a Bible, as shown in this image released by the Harris press office:
Fortunately, C-SPAN recorded the actual ceremony and has the proof in video form. Watch as Vice President Biden swears in Harris as a U.S. senator on January 3, 2017. You see a Bible and you hear Biden ask Harris to put her right hand on the Bible:
Other recent false claims about Kamala Harris that Lead Stories has debunk include:
Fact Check: Kamala Harris' Birth Certificate Does NOT Identify Her As 'Caucasian'
Fact Check: Senator Kamala Harris IS A United States Citizen And IS Eligible To Be President
Fact Check: Kamala Harris Did NOT Say She Listened To Snoop And Tupac In College
Fact Check: Kamala Harris Did NOT Call Joe Biden 'A Racist And A Rapist'
Fact Check: Photo Is NOT Kamala Harris With Her Parents And Is NOT Evidence She Is Not A Black American
Fact Check: Kamala Harris Said She Believed Women Who Said They Felt 'Uncomfortable' By Biden Touching -- NOT 'Rape Accusers'
Fact Check: Kamala Harris Descended From A Slave Owner, But It's Not 'An Inconvenient Part Of Her History' Or A 'Deep, Dark Secret' That 'Could Come Back To Haunt Her'