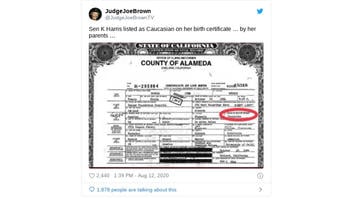 Does Kamala Harris' birth certificate identify her as "caucasian?" No, that's not true. Her birth certificate from Alameda County, California does not list a race for her. Harris' mother's race is listed as "caucasian," although her mother was from India, and her father's race is listed as "Jamaican," which is a nationality and not a race. A DNA study published by the National Institutes of Health concluded that the "modern Jamaican population" has "an almost entirely West African matrilineal origin." There is not a section for race of the child, Harris, on the birth certificate. Harris identifies as Black -- or African American -- and has spoken and written about her experience as a Black person in America.
The claim appeared as a tweet (archived here) published by Judge Joe Brown on August 12, 2020, which included a photo of Harris' birth certificate. The introductory message read:
Sen K Harris listed as Caucasian on her birth certificate ... by her parents ...
This is what the post looked like on Twitter at the time of writing:
(Source: Twitter screenshot taken on Sat Aug 15 19:14:26 2020 UTC)
The blurry image was posted by Joseph Blakeney Brown Jr., a lawyer who starred in the reality show "Judge Joe Brown," on Twitter on August 12 with a red circle around the designation "Color or Race of Mother."
The image shows California Senator Harris' birth certificate with the word "caucasian" circled. This part of the birth certificate is not about the child. This is the section labeled "Mother of Child" and asks for "Color or Race of Mother."
Her mother Gopalan Shyamala is Indian and listed her own race as "caucasian."
Her father Donald Jasper Harris's "Color or Race" is listed as "Jamaican."
Kamala's race is not identified anywhere on the birth certificate, as was the standard in California when she was born on Oct. 20, 1964.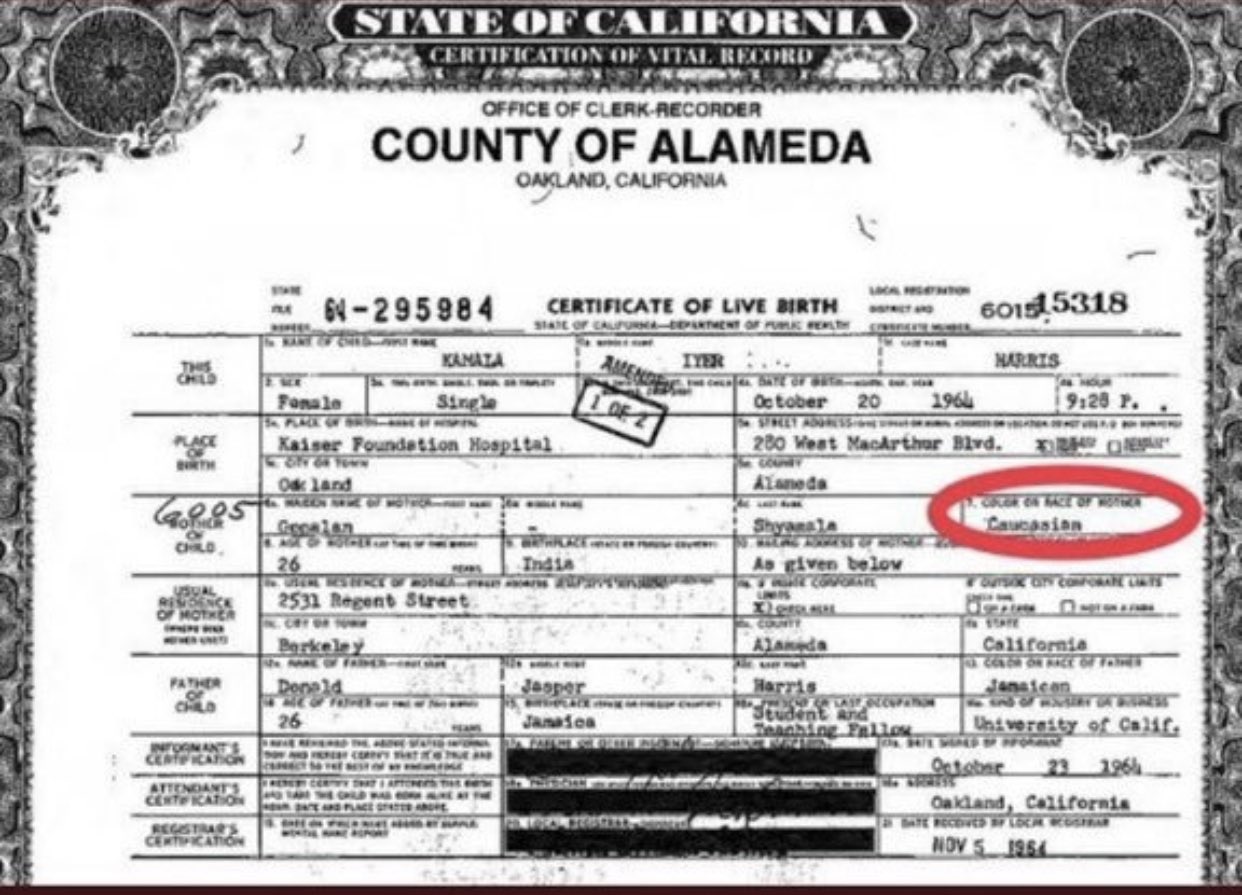 Joe Biden's selection of Harris as his running mate triggered a racial discussion about the definition of being Black in America. Racial language have changed over time -- "colored" or "negro" were the common terms until the 1960s -- but the development of DNA analysis has opened a scientific window into racial identity that did not exist when Harris' birth certificate was produced in 1964.
A Study published by the National Institutes of Health's National Library of Medicine in 2012 compared West African DNA to DNA from the population of Jamaica. The study titled Interdisciplinary approach to the demography of Jamaica concluded that Almost all modern Jamaicans have their ancestry rooted in Africa:
Earlier mtDNA assessments of the island of Jamaica results suggest an almost entirely West African matrilineal origin to the modern Jamaican population with very few genetic inroads by either Eurasian or Asian/New World matrilines, consistent with the historical accounts of not only a high slave importation rate, but also a very small resident European female population size, and the decimation of indigenous groups almost directly after contact.
While her political opponents may want to re-define who Harris is, she wrote about growing up Black in her book, "The Truths We Hold: An American Journey."
My mother understood very well she was raising two black daughters. She knew that her adopted homeland would see Maya and me as black girls, and she was determined to make sure we would grow into confident black women."
As Joe Biden picked Harris to be his running mate in the 2020 presidential election, Harris has been accused of not being a United States citizen because her parents were not citizens when she was born in Oakland, Calif. and therefore she is not eligible to be vice president or president, which Lead Stories has previously debunked.
Harris' father is Jamaican and taught at Stanford University; her mother was the daughter of an Indian diplomat and was a cancer researcher. Neither of them were citizens at the time of her birth.
But the 14th Amendment to the U.S. Constitution guarantees citizenship for anyone born in the United States, regardless of their parents' immigration status. The Constitution requires a president to be a natural-born citizen.
Lead Stories also debunked the claim that she is not a citizen of the United States because of birthright citizenship in her parents' home countries of India and Jamaica.
Georgetown Law professor Josh Chafetz told Lead Stories: "It remains both absurd and racist. The laws of other countries are irrelevant here. Under U.S. law, she was a citizen at birth and is therefore eligible to the presidency."
Fact Check: Kamala Harris Has NOT Been Chosen (Yet) As Biden's Veep, She IS A Natural-Born U.S. Citizen And Is Eligible To Be President
Fact Check: Senator Kamala Harris IS A United States Citizen And IS Eligible To Be President
Fact Check: Photo Is NOT Kamala Harris With Her Parents And Is NOT Evidence She Is Not A Black American