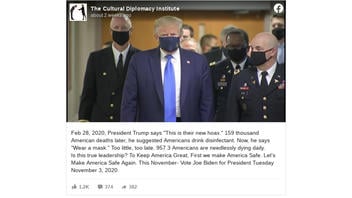 Did President Trump suggest that Americans drink disinfectant to protect against COVID-19? No, that's not true: The president only urged that there should be research into the possible effectiveness of disinfectants injected "inside the body" to do a "cleaning." He did not suggest anyone drink a disinfectant.
The claim appeared in a post (archived here) shared on Facebook on August 7, 2020, which read:
Feb 28, 2020, President Trump says "This is their new hoax." 159 thousand American deaths later, he suggested Americans drink disinfectant. Now, he says "Wear a mask." Too little, too late. 957.3 Americans are needlessly dying daily.
Is this true leadership? To Keep America Great, First we make America Safe. Let's Make America Safe Again. This November- Vote Joe Biden for President Tuesday November 3, 2020
This is what the post looked like on Facebook at the time of writing:
(Source: Facebook screenshot taken on Wed Aug 19 01:16:48 2020 UTC)
The president did not suggest than anyone should drink disinfectants as a way of fighting coronavirus. But President Trump did suggest that researchers look into the possibility that injections such could prove useful. He made that suggestion on April 23, after having listened to results of a study into the coronavirus that causes COVID-19 that were presented by Department of Homeland Security Under Secretary for Science and Technology William Bryan.
"Our most striking observation to date is the powerful effect that solar light appears to have on killing the virus, both surfaces and in the air," Bryan told reporters attending the daily White House Coronavirus Task Force news conference.
As temperature and humidity rise, the half life of the coronavirus drops, he said. "Now, you inject the sun, the half life goes from six hours to two minutes."
The virus contained in droplets of saliva survives best indoors under dry conditions, he said. "The virus dies the quickest in the presence of direct sunlight under these conditions," he added. "You put it in a room 70 to 75 degrees, 20% humidity, low humidity, half life is about an hour. But you get outside and it cuts down to a minute and a half."
That information about the virus has practical applications for people seeking to steer clear of the virus, he said:
For example, increasing the temperature and humidity of potentially contaminated indoor spaces appears to reduce the stability of the virus, and extra care may be warranted for dry environments that do not have exposure to solar light."
Bryan said researchers had also tested how readily available disinfectants, including bleach and isopropyl alcohol, affect the virus in saliva and respiratory fluids:
Bleach will kill the virus in five minutes, isopropyl alcohol will kill the virus in 30 seconds, and that's with no manipulation, no rubbing, just spraying it on and leaving it go. You rub it and it goes away even faster."
Trump, who had been listening to Bryan's presentation, appeared enthused at what he had heard. "So, supposing we hit the body with a tremendous, whether it's ultraviolet or just a very powerful light, and I think you said that hasn't been checked, but you're going to test it," Trump told Bryan. Trump continued:
And then I said, supposing you brought the light inside the body, which you can do either through the skin or in some other way, and I think you said you're going to test that, too. Sounds interesting. And then I see the disinfectant, where it knocks it out in a minute. One minute. And is there a way we can do something like that, by injection inside? Or almost a cleaning, cuz you see it gets in the lungs. And it does a tremendous number on the lungs. So, it'll be interesting to check that. So that, you're going to have to use medical doctors with. But it sounds interesting to me. But the whole concept of the light, the way it kills in one minute. That is pretty powerful."
Trump then urged White House Coronavirus Response Coordinator Dr. Deborah Birx to "speak to the medical doctors to see if there's any way that you can apply light and heat to cure" and asked whether she had heard of their use against the coronavirus.
Birx said she had not heard of heat and light being used "as a treatment" for coronavirus.
"I think it's a great thing to look at," said Trump, who noted that he is not a doctor.
Here is the full C-SPAN video:
The Environmental Protection Agency on Friday posted this warning on its website regarding safe disinfectant use:
Never apply the product to yourself or others. Do not ingest disinfectant products."
And a spokesman for the World Health Organization referred a reporter to the organization's myth-busters page, which notes that exposing oneself to the sun or warm temperatures doesn't prevent the disease; and spraying oneself with alcohol or chlorine will not kill viruses that have already entered the body.
"Unfortunately, injecting or drinking disinfectants or bleach was not foreseen in the myth-busters," the spokesman said.
Reckitt Benckiser, the maker of Lysol and Dettol, cited "recent speculation and social media activity" over questions about "whether internal administration of disinfectants may be appropriate for investigation or use as a treatment for coronavirus (SARS_CoV-2). On its website, it reads:
As a global leader in health and hygiene products, we must be clear that under no circumstance should our disinfectant products be administered into the human body (through injection, ingestion or any other route)."
While Trump has been taken task over his comments at the news conference, the accusations are false. He did not urge people to do anything -- he just said such methods of ridding the coronavirus should be examined.
You can also see the Lead Stories' article titled Fact Check: Trump Did NOT Urge People To Inject Disinfectants To Thwart Coronavirus