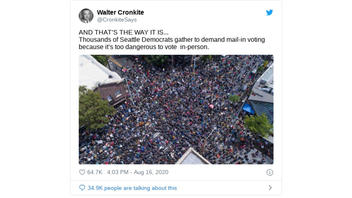 Does a photo posted on social media show thousands of Seattle Democrats crowded onto downtown streets to demand mail-in voting as a safe alternative to in-person voting during a pandemic?No, that's not true: The photo was taken at Black Lives Matter demonstration on June 6, 2020, not a protest against in-person voting. Besides, Washingtonians don't need to demand mail-in voting. They already have it. Washington State has voted by mail since 2011.
The deceptive photoswap appeared in aTweet (archived here) under the title "AND THAT'S THE WAY IT IS". It opened:
...Thousands of Seattle Democrats gather to demand mail-in voting because it's too dangerous to vote in-person. LOL
This is what the post looked like on Twitter at the time of writing:
(Source: Twitter screenshot taken on Tue Aug 18 22:51:09 2020 UTC)
Lead Stories found the photo with a Google Image search in an entry on the West Seattle Blog, which published several pictures of the Black Lives Matter demonstration on June 6, 2020. The photo used in a false post appeared as the second image in an entry titled PHOTOS/VIDEO: West Seattle Junction fills with sea of protesters affirming 'Black Lives Matter!'
The implication that it was a non-socially distanced crowd protesting about the dangers of having to vote in person during a pandemic. It was not.
Along with Washington, there are four other states which vote primarily by mail: Colorado, Hawaii, Oregon and Utah. Voters may, if they prefer, still vote in person in all five states, according to Ballotpedia, but all are able to mail in their completed ballot.
According to the website of the Washington Secretary of State, many counties switched to vote-by-mail as early as 2005, when the Legislature made it an option after 17 years' experience with special elections and small precincts.