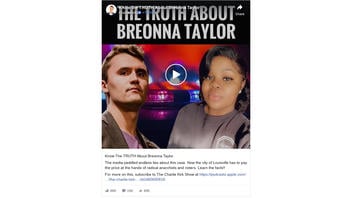 Is a video made by Charlie Kirk promising the "truth about Breonna Taylor" and another from Candace Owens claiming "everything they told us about the Breonna Taylor case was a lie" all true? No, that's not the case: Both videos contain falsehoods and half-truths. Taylor's boyfriend cannot fairly be characterized as a "criminal thug." There is no proof that she was "knee deep in drugs." Also, police did not have an arrest warrant for Taylor, whose alleged involvement in the drug trade is, at most, contested and circumstantial.
Various claims were made in a video (archived here) published by Facebook on September 23, 2020. The video was posted by Charlie Kirk, the right-wing founder and president of Turning Point USA. It appeared under the title "Know the TRUTH About Breonna Taylor" and was tagged with the following message:
The media peddled endless lies about this case. Now the city of Louisville has to pay the price at the hands of radical anarchists and rioters. Learn the facts!!
This is what the post looked like at the time of writing:
(Source: Facebook screenshot taken on Fri Sep 25 00:41:42 2020 UTC)
The Kirk video is less than five minutes of Kirk speaking to the camera. He makes several accusations that are either not supported by fact or in question. Here's a quick look at some of those claims, in the order that they were discussed.
Kirk accused Taylor of being "knee deep in crime with Jamarcus Glover," her former boyfriend who was a main target of the narcotics investigation that eventually resulted in Taylor's death. Kirk later said that Taylor was involved with a "drug-trafficking criminal scheme."
These claims are not proven. Taylor had no criminal record and no drugs or money were found at her apartment. Lead Stories has covered such claims before. See our reporting here.

Second, Kirk stated as fact that Glover used Taylor's address for deliveries. This is debated. That claim was made in an affidavit for a search warrant to establish probable cause to search her apartment, but was later contradicted by a U.S. postal inspector in Louisville, Kentucky. The detective who sought the warrant has been placed on "administrative reassignment."
Third, Kirk claimed that police had a warrant to "go arrest Breonna Taylor." That's demonstrably false. They did not. Police had a search warrant, not an arrest warrant.
Finally, Kirk levied accusations against Taylor's boyfriend. Specifically, he said:
The police were shot at by her new boyfriend, criminal thug, Kenneth Walker.
Taylor and her boyfriend, Walker, were together at her apartment the night of the deadly raid. Officers breached the door and Walker, who has said he didn't know they were police and feared intruders, fired one shot, striking an officer in the leg. Officers returned fire, shooting more than 30 times between them. Walker was not hurt but Taylor was stuck several times and died.
In other words, it's true that Walker shot at police. He has since said he would not have fired had he known they were officers. Walker is a legal gun owner and reportedly has no criminal background. He initially faced charges of attempted murder and assault, stemming from the shooting at Taylor's apartment, but those were dismissed without prejudice. By law, a criminal is someone convicted of a crime and Walker does not qualify as of Sept. 25, 2020.
Some of the claims Kirk made in his video are echoed in another video, this one posted by conservative commentator Candace Owens. It was also published by Facebook, also on September 23, 2020. You can watch her video here:
Owens used the same language as Kirk, stating that Taylor was "knee deep in drugs." That's not proven, as explained above and in our previous debunk titled "Fact Check: 'Truth About Breonna Taylor' Meme Has Claims That Are False, Misleading Or In Dispute." Again, Taylor had no criminal record and was never the primary target of an investigation. Authorities found no drugs or money at her apartment.
Glover told The Courier Journal that Taylor had nothing to do with the drug business. He said:
There was nothing never there or anything ever there, and at the end of the day, they went about it the wrong way and lied on that search warrant and shot that girl out there.
Owens made at least one other claim related to Taylor that's worth noting. She also made various claims about Black Lives Matter and African American men who have died at the hands of police -- namely, George Floyd, Jacob Blake, and Rayshard Brooks -- but those claims are beyond the scope of this fact-check.
About Taylor, Owens said that she "had to step away from being an EMT because a car that she had rented, all the way back in 2016, was involved in a homicide." That's a half-truth. According to The New York Times, Taylor did rent a car, lend it to Glover, who then gave it someone else who was later found dead in the vehicle. She was questioned but faced no charges.
There's no proof, however, that that's the reason she resigned as an EMT. The New York Times reported that Glover asked Taylor to rent the car in December 2016. She resigned as an EMT in November of that year, according to WAVE 3 News, which cited her personnel file. The dates don't line up to support Owens's claim.