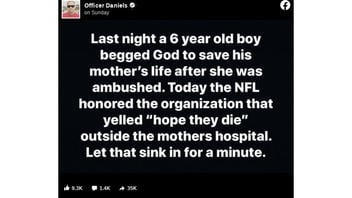 Did the NFL (National Football League) honor an organization that yelled "hope they die" outside of a hospital where two Los Angeles County sheriff's deputies were being treated after they were shot in an ambush? No, that's not true: The approximately five protesters who confronted deputies outside of a Los Angeles hospital identified themselves as part of the Africa Town Coalition, a group that has conducted protests and boycotts in the Compton community. At least one of the protesters was heard yelling "we hope they die." The NFL has not honored or given support to the Africa Town Coalition.
The claim appeared in a meme in a post shared on September 15, 2020, by a Facebook page named "Officer Daniels " (archived here) with following text:
Last night a 6 year old boy begged God to save his mother's life after she was ambushed. Today the NFL honored the organization that yelled "hope they die" outside the mothers hospital. Let that sink in for a minute.
This is what the post looked like on Facebook at the time of writing:
(Source: Facebook screenshot taken on Wed Sep 16 17:32:33 2020 UTC)
Social media users sharing the claim that the NFL showed support for the protesters who confronted deputies at the hospital conflate Africa Town Coalition with Black Lives Matter. The two organizations are not the same. The logo of the Africa Town Coalition, which appears focused on developing an area of Compton as "Africa Town," does appear in a collage of logos on the website of the Los Angeles BLM promoting the message of "inequalities exposed by COVID-19."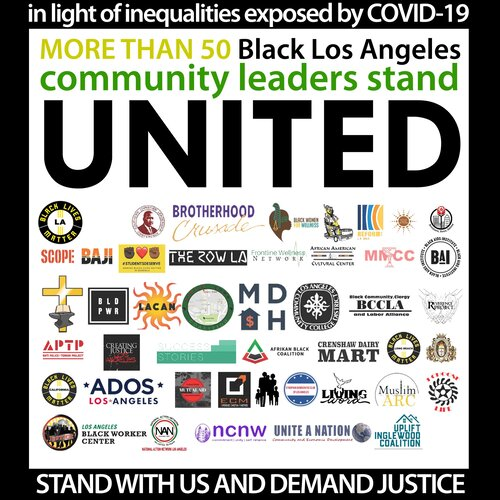 NFL Commissioner Roger Goodell's announced in a tweeted video earlier this year the league's support for the Black Lives Matter movement:
We, the NFL, condemn racism and the systematic oppression of Black People. We, the NFL, admit we were wrong for not listening to NFL players earlier and encourage all to speak out and peacefully protest. We, the NFL, believe Black Lives Matter. #InspireChange pic.twitter.com/ENWQP8A0sv

-- NFL (@NFL) June 5, 2020
Days later, the NFL announced an "Expanded Social Justice Commitment":
.@NFL Announces Expanded Social Justice Commitment:https://t.co/gjlBOlZqkP#InspireChange pic.twitter.com/pgmXBDCWaT

-- NFL345 (@NFL345) June 11, 2020
There is no evidence the NFL has ever honored, expressed verbal support, or given financial support for the "Africa Town Coalition."
Lead Stories previously investigated claims about what happened at the entrance to Saint Francis Medical Center on the evening of September 12, 2020, the hospital that treated the two deputies shot that day. Read our findings in this story titled Fact Check: Protesters Did NOT Block Hospital Entrance Before Arrival Of Ambulances Transporting Wounded Officers.