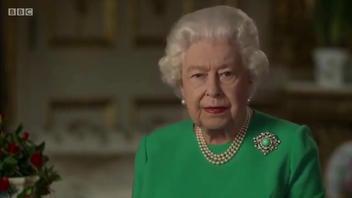 Do the World Health Organization (WHO) and Queen Elizabeth II want to remove children from COVID-infected homes? No, that's not true: That is a made-up claim that stems from two videos. The first is a snippet of a March 30, 2020, press conference with Dr. Michael Ryan of the WHO where he briefly mentions that it would be advantageous to remove COVID-infected people from the home. The second is a clip of the Queen's April 5 address in which she reminisces about World War II child evacuations. Neither video says that children should be removed from homes as a measure to slow the spread of COVID-19.
The claim appeared in a YouTube video (archived here) published on April 27, 2020, that has recently regained attention on social media. The caption on the video read:
WHO and Queen announce children will be taken from homes
Click below to watch the video on YouTube:
The false claim was tied to the part of the press conference where Ryan said, "In some senses, transimission has been taken off the streets and pushed back into family units. Now, we need to go and look in families to find those people who may be sick and remove them and isolate them in a safe and dignified manner." At no time during this press conference did Ryan specifically removing children.
The April 5, 2020, address by Queen Elizabeth was a rare televised speech by the monarch to reassure people during the pandemic. After speaking about World War II child evacuations, Queen Elizabeth II said, "Today, once again, many will feel a painful sense of separation from their loved ones. But now, as then, we know, deep down, that it is the right thing to do."
While these comments may be somewhat misleading or alarming to some, they did not imply that children would be removed from COVID-infected homes.
Reuters also wrote a fact check on the same claim.