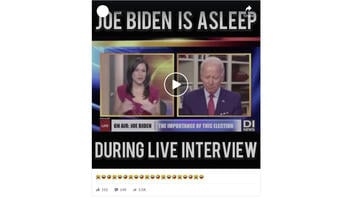 Did Joe Biden fall asleep during a live television interview? No, that's not true: The video -- picked up by many social media users including the personal Twitter account of President Trump's White House Deputy Communications Director Dan Scavino -- is a fake.
The clip is built on top of video from a 2011 interview with singer Harry Belafonte, who did appear to be asleep when the camera in a New York studio was switched on for his side of a remote interview with KBAK-TV in Bakersfield, California.
The misleading clip appeared in an Aug. 30, 2020 post published on a "Trump 2020" account registered to Jake Haman (archived here) with following text:
JOE BIDEN IS ALEEP DURING LIVE INTERVIEW
This is what the post looked like on Facebook at the time of writing:
(Source: Facebook screenshot taken on Tue Sep 1 00:17:56 2020 UTC)
Scavino, who is in charge of social media in the Trump White House, re-tweeted the post, sharing it with his 930,000 followers. The doctored video opens with the reporter preparing the audience for her guest:
Joining us live this morning from New York
Soon after her lead-in, the surprised and laughing television reporter appears to be trying to wake her interviewee. In the doctored version of the video, the sound of snoring is heard and then a photo of Biden with his eyes closed is substituted for Belafonte.
On camera, the reporter says "Wake Up!" to the sound of in-studio laughter and more snoring. The superimposed caption in the lower third of the screen has also been doctored. It reads: "JOE BIDEN: THE IMPORTANCE OF THIS ELECTION." The real caption read "MY SONG" which is the title of the book Belafonte was promoting in 2011.
The KBAK anchor, John Dabkovich, posted a tweet to clear up the matter.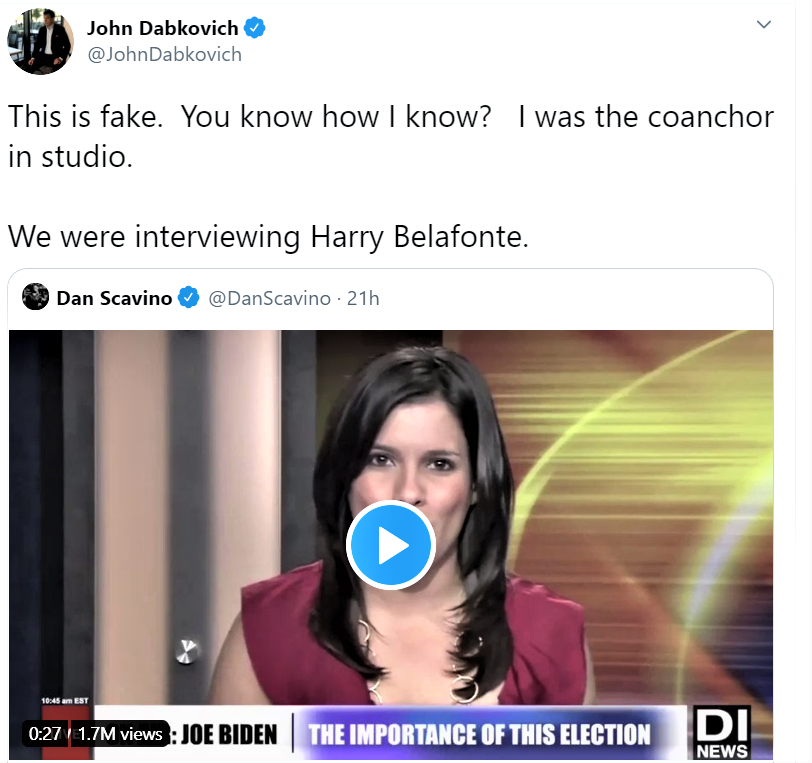 For the original Belafonte interview, Dabkovich posted a link to Twitter:
August 31, 2020
In an October 18, 2011, story in TMZ, Belafonte's representative, Ken Sunshine, said Belafonte's studio earpiece was not working and that while engineers were trying to get the audio working, the singer closed his eyes and meditated. He couldn't hear the KBAK reporter speaking to him and was caught waiting for the sound to come back on.