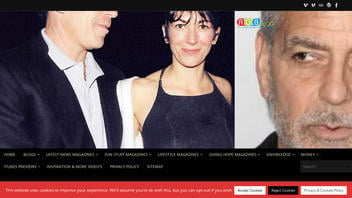 Does a "bombshell" allegation put actor George Clooney in the middle of the Jeffrey Epstein's human trafficking "sex cabal"? No, that's not true: This claim is a clickbait headline unsupported by the article below it. Epstein's former girlfriend is quoted in an unpublished book saying she had an oral sex encounter in a random toilet encounter with Clooney. The original report noted that there was no evidence of any other connection between Epstein's world and Clooney.
The story appeared as an article (archived here) published by RichardBejah.com on August 12, 2020 under the title "REPORT: BOMBSHELL ALLEGATION PUTS GEORGE CLOONEY SMACK DAB IN THE MIDDLE OF EPSTEIN'S UNLAWFUL "SEX CABAL" ". It opened:
Ghislaine Maxwell allegedly "enjoyed to boast" about "carrying out a sex act on George Clooney," according to Jeffrey Epstein accuser Virginia Roberts-Giuffre.

The U.K. Sun reported that this claim was made by Giuffre in a manuscript of a book called "The Billionaire's Playboy Club." Giuffre wrote that Maxwell "enjoyed to boast about her rendezvous with numerous lovers".

"When she came back giddy as a schoolgirl with an explosion of news, with all the develop up and enjoyment in her voice you 'd think she was the next crown princess," Giuffre composed. "But she had actually offered George Cooney a b ***** b in the restroom at some random occasion. She never let that one down."

Clooney has yet to talk about the claims made by Giuffre, who has actually also claimed that she was required to have sex with Prince Andrew on three different occasions. In this exact same manuscript, Giuffre explained the supposed fetishes of the British royal.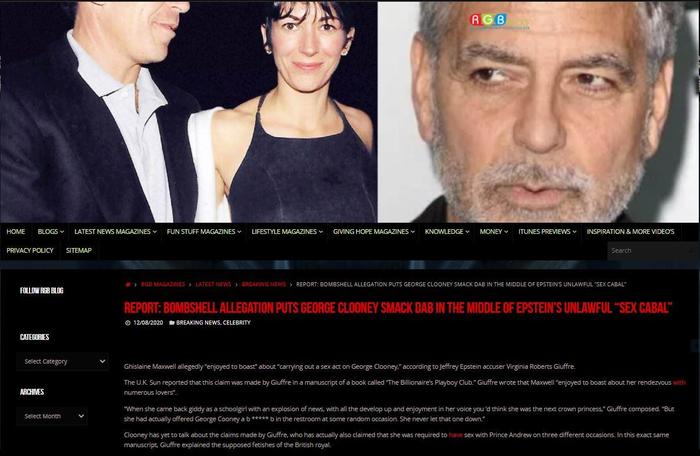 Screen capture of the RichardBejah.com article as it appeared on September 8, 2020
The Sun newspaper report that is quoted in the inaccurate article points out that it does not connect Clooney to Epstein. The Sun wrote:
There is no suggestion of any involvement by Clooney in underage sex, Epstein's crimes, or other wrongdoing of any kind.
Virginia Roberts-Giuffre was a teenage girl working at the Mar-A-Lago Resort when she was allegedly spotted and recruited by Ghislaine Maxwell to audition as a masseuse. The details of what happened to her in the time after that, were written in a memoir called "The Billionaire's Playboy Club" (here). It is on page 72 of this memoir that the one brief mention of George Clooney appears. This memoir and other documents have been sealed and unsealed at various times in the many legal proceedings surrounding the case of Jeffrey Epstein sexually abusing and trafficking minors. Virginia Roberts-Giuffre also filed a defamation lawsuit against Ghislaine Maxwell in 2015. That lawsuit was settled under seal.

There were appeals filed to unseal those documents and finally on August 9, 2019, they were unsealed. This date is notable because it is the day before Jeffrey Epstein died in a New York City prison cell. A Business Insider article from August 9, is titled, "Epstein files unsealed: Thousands of accusers' documents have been released from the defamation suit against his ex-girlfriend and alleged 'madam'." The end of this article (archived here) has an embedded document of all 2000 pages of the unsealed files. The article explains:
At the time of the filing, Virginia Roberts-Giuffre had emerged as one of wealthy financier Jeffrey Epstein's most visible accusers, accusing his ex-girlfriend and close associate Ghislaine Maxwell, a British socialite, of participating in her abuse. Specifically, Guiffre identified Maxwell as having solicited underage girls for Epstein's abuse.

Maxwell publicly called Giuffre a liar, after which Giuffre sued her for defamation, and a total of 167 documents containing thousands of pages were filed under seal.
Now Ghislaine Maxwell is being held in a New York federal charges of enticement of minors, sex trafficking of children, and perjury. On July 30, 2020, these documents were unsealed again and once again are the subject of tabloid headlines.
The RichardBejah.com article links back to an article at WayneDupree.com (here)(archived here) with the same title, "Report: Bombshell Accusation Puts George Clooney Smack Dab in the Middle of Epstein's Illegal "Sex Cabal"" which was published on August 7, 2020. RichardBejah.com also credits UpliftingToday as being the original source, but the "credit" to UpliftingToday is just the full plagiarized scrape of the WayneDupree.com article and all of its credits as they appeared on that website. A careful look shows how WayneDupree's copy links back to UpliftingToday and the RichardBejah.com copy, with its awkward wording, points to having been spun:
WayneDupree.com:
This piece originally appeared in UpliftingToday.com and is used by permission.

RichardBejah.com:
This piece originally appeared in UpliftingToday.com and is utilized by approval.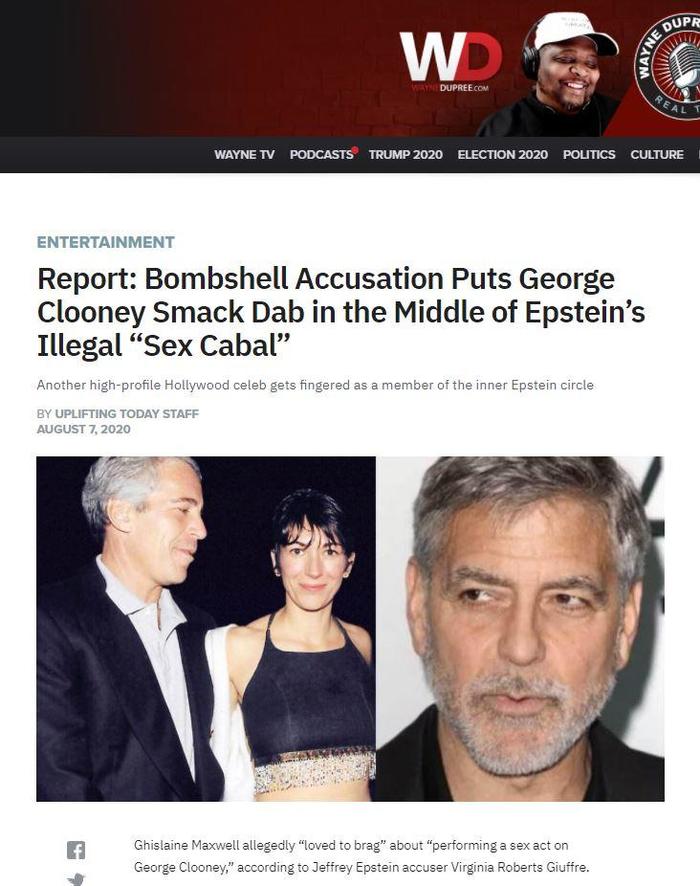 Screen capture of the WayneDupree.com article as it appeared on September 8, 2020
The UpliftingToday.com story (here)(archived here) was published on August 7, 2020 and was titled, "Ghislaine Maxwell 'Boasted About Performing Sex Act On George Clooney,' Epstein Accuser Claims." The articles are nearly identical, but careful examination shows that the RichardBejah.com edition has been altered with article spinning. A small number of words and phrases have been substituted. For example "enjoyed to boast" was originally "loved to brag" and "carrying out" was "performing".
There is one word swap that does have a very significant difference- regarding what exactly Virginia Roberts-Giuffre alleged Ghislane Maxwell told her. The UpliftingToday.com article says, "But she had given George Cooney a b*****b in the bathroom at some random event." while the RichardBejah.com version says, "But she had actually offered George Cooney a b ***** b in the restroom at some random occasion." The quote from the memoir is, without redaction, just as reported by UpliftingToday, "...but she had given George Clooney a blowjob in the bathroom at some random event..."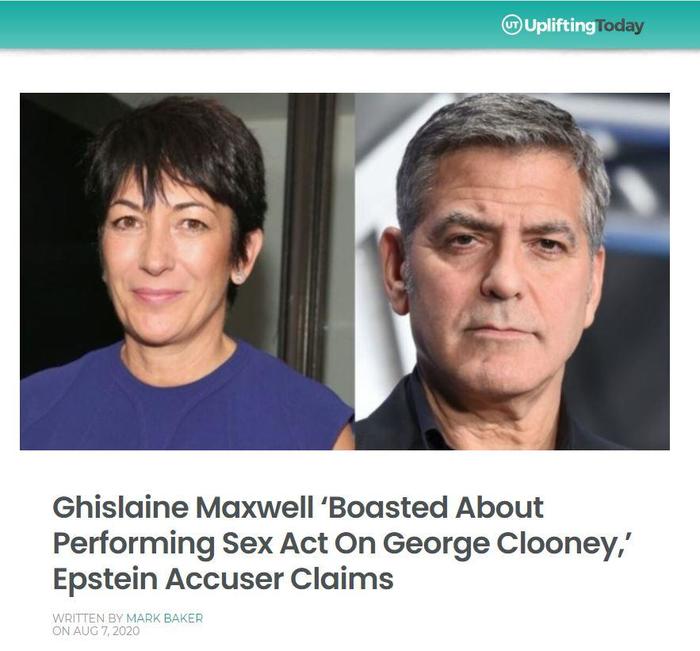 Screen capture of the upliftingtoday.com article as it appeared on September 8, 2020
This risqué story has been retold several times, and now spun; we may never know the whole truth of what really did happen between these two adults, if it even happened at all- but if it did happen, it does not point to any criminal wrongdoing on the part of George Clooney, and to insinuate that he is now "smack dab in the middle of Epstein's unlawful sex cabal" is truly out of hand.
Lead Stories has an analysis article that explains more about article spinning: 'Invoice Barr' and the 'Second Modification': How Article Spinning Works