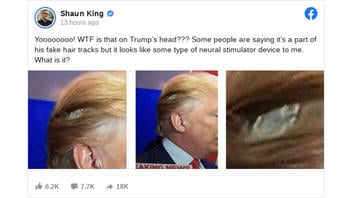 Do photos show President Donald Trump with a "neural stimulator device" on his scalp under his hair? No, there's no evidence that's true: Even assuming the photographs are real, which we don't, the images are not suggestive of such a device, a neural device expert told Lead Stories.
The claim appeared in a post (archived here), published on Facebook on September 30, 2020, by author and activist Shaun King. Alongside three purported photos of Trump, a message read:
Yoooooooo! WTF is that on Trump's head??? Some people are saying it's a part of his fake hair tracks but it looks like some type of neural stimulator device to me. What is it?
This is what the post looked like at the time of writing:
(Source: Facebook screenshot taken on Wed Sep 30 17:36:19 2020 UTC)
The post was published shortly after the first presidential debate. Although there is no reference to the debate in the text, the timing makes its own implication. However, the photos are not from that event -- in the post's photos, Trump is wearing a red tie. During the debate that took place on September 29, 2020, he wore a blue tie with red stripes, as can be seen here.
It's important to note that this fact-check does not include an examination of the photos themselves, whether they are genuine or have been altered in some way. Rather, we're looking at whether the photos -- real or not -- show Trump with a "neural stimulator device" -- a device that stimulates the brain and nervous system via electrical pulses.
There's no evidence that these photos show Trump with such a device.
Lead Stories reached out to Jacob Robinson, an associate professor of electrical and computer engineering and bioengineering at Rice University in Houston, Texas. He's also a member of the Rice Neuroengineering Initiative. Robinson looked at the photographs of Trump and said:
This does not look like any neural stimulator I've seen. It also lacks the form factor I would expect for a neural stimulator. Looks to lack a power supply. I think it's very unlikely to be a neural stimulator."
If it were an external neural stimulator, Robinson said that he'd expect to see something "bulkier." Alternatively, a stimulator could be completely internal, not visible from the scalp. But, he said:
I'm not aware of small thin devices that are external."
Lead Stories asked the Trump campaign to comment for this story and will update, if we receive a response.
The post's claim is a variation of a somewhat similar allegation that was made against Democratic presidential nominee Joe Biden: that he wore a wire during the debate. Lead Stories has debunked that claim. Read our previous reporting on it here.