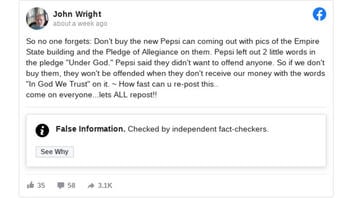 Did Pepsi omit "Under God" from the Pledge of Allegiance on a new can design? No, that's not true: This is a false claim that has been circulating since the early 2000s when it was Dr Pepper that released a can with the phrase, "One Nation...Indivisible." The Pledge of Allegiance actually ends, "one nation under God, indivisible, with liberty and justice for all."
The claim appeared in a Facebook post (archived here) published on September 22, 2020. It opened:
So no one forgets: Don't buy the new Pepsi can coming out with pics of the Empire State building and the Pledge of Allegiance on them. Pepsi left out 2 little words in the pledge "Under God." Pepsi said they didn't want to offend anyone. So if we don't buy them, they won't be offended when they don't receive our money with the words "In God We Trust" on it.
This is what the post looked like on Facebook at the time of writing:
(Source: Facebook screenshot taken on Wed Sep 30 13:50:47 2020 UTC)
This was the controversial Dr Pepper can design: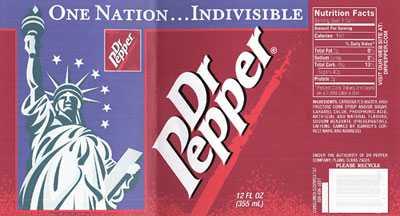 This NYC-centered, patriotic can design was created in 2001 following the September 11 attacks on the twin towers of the World Trade Center. The can was available from November 2001 through February 2002, according to a statement issued by Cadbury Schweppes, owner of Dr Pepper. The statement read in part:
The special packaging was designed to reflect our pride in this country's determination to stand together as one. The Statue of Liberty and Pledge of Allegiance were chosen as two of the greatest symbols of American freedom. Only three words were used from the Pledge of Allegiance. Those three words were in concert with the patriotic mood of the nation.
Dr Pepper was not a PepsiCo product at the time nor is it today. Additionally, there are no Pepsi can designs from 2001 or 2002 on "CanMuseum.com" that feature the phrase, "One Nation...Indivisible."
Fact-checking sites Snopes and PolitiFact also debunked this claim.
"Under God" is a somewhat recent addition to the Pledge of Allegiance. It was not until 1954 -- 62 years after it was first written -- that "under God" was added. Before that, the pledge made no mention of God.