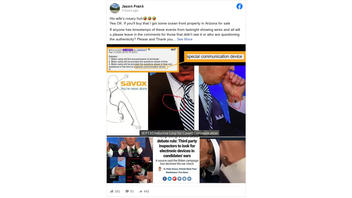 Do images from the September 29, 2020, presidential debate show that Joe Biden was wearing a communications device, perhaps to receive tips on what to say? No, that is not true. Social media posts are making this claim after a rosary, worn by Biden around his wrist in remembrance of his son, was seen poking from his sleeve -- and a crease on his shirt was taken by some to be a "wire." The rosary and the wire claims have been debunked by Lead Stories. A new claim links to, and suggests that Biden wore, a specific communications device. But such a device would be unmistakable.
The claim appears in a post (archived here) published to Facebook on September 30, 2020, under the page of "Jason Frank." The post, with a photo collage at the bottom, opens with:
His wife's rosary huh

Yea OK. If you'll buy that I got some ocean front property in Arizona for sale

If anyone has timestamps of these events from lastnight showing wires and all will u please leave in the comments for those that didn't see it or who are questioning the authenticity? Please and Thank you
This is what the post looked like on Facebook at the time of writing:
(Source: Facebook screenshot taken on Wed Sep 30 19:49:37 2020 UTC)
Here is a screenshot of the full post, which includes a link to a Savox communications device and includes a report by Fox News that Trump's campaign wanted ears checked for devices before the Cleveland debate. Biden declined the request.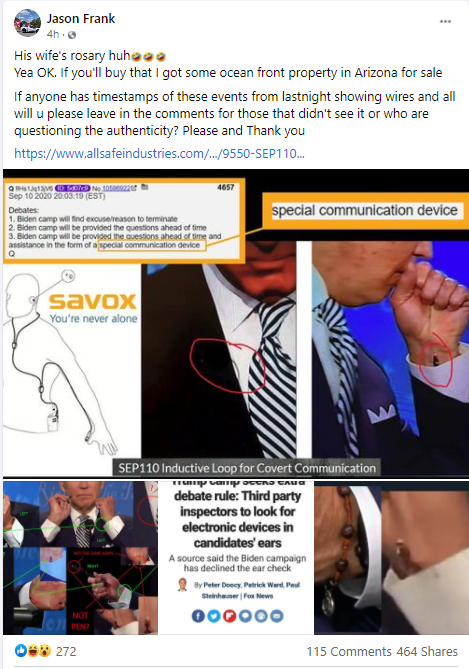 In the post's photos, a rosary is clearly shown at the bottom right. The rosary belonged to Biden's son, who died of a brain tumor -- not his wife, as the post states -- and was explained in an earlier Lead Stories article.
If Biden really wanted a device to secretly hear instructions from his aides or experts during the Cleveland debate, he could have just gone with some other option than has been posted -- such as this by Savox deep-covert earpiece.
No evidence exists -- in the posts or through any reports -- that Biden wore any device to aid him during the chaotic Sept. 29 debate. In fact, the debate was deemed such a mess, the Commission on Presidential Debates is considering new rules for any future Trump-Biden match-ups. According to NBC News, the CPD stated the following:
"Last night's debate made clear that additional structure should be added to the format of the remaining debates to ensure a more orderly discussion of the issues.

The CPD will be carefully considering the changes that it will adopt and will announce those measures shortly."