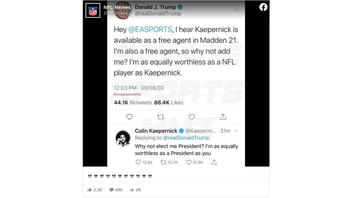 Did President Trump post a combative tweet about Colin Kaepernick ? No, that's not true: This is a fake tweet created by a sports satire site, @SavageSportsMMZ. The site's watermark is clearly visible in two places on the screenshot of the made-up tweet.
The claim appeared in a Facebook post (archived here) where it was reposted by another sports satire page, @nflmemes4you on September 8, 2020. The fake Trump tweet read:
Hey @EASPORTS, I hear Kaepernick is available as a free agent in Madden 21. I'm also a free agent, so why not add me? I'm equally worthless as a NFL player as Kaepernick.
This is what the post looked like on Facebook at the time of writing:
(Source: Facebook screenshot taken on Wed Sep 9 13:25:08 2020 UTC)
@SavageSportsMMZ also included a fake reply from Colin Kaepernick in response to Trump's fake tweet:
Why not elect me President? I'm as equally worthless as a President as you.
"Madden 21" refers to the wildly popular video game, Madden NFL 21, the latest iteration of one of the only officially licensed NFL video games.
Although this tweet is fabricated, there is some truth to it: EA Sports announced that they will be including Kaepernick as a free agent in Madden NFL 21, which marks his return to the video game since he started kneeling during the national anthem during the 2016 season to protest "systemic oppression."
EA Sports released the following statement on September 8, 2020:
Colin Kaepernick is one of the top free agents in football and a starting-caliber quarterback. The team at EA SPORTS, along with millions of Madden NFL fans, want to see him back in our game. We've had a long relationship with Colin through Madden NFL and worked through our past soundtrack mistakes.

Knowing that our EA SPORTS experiences are platforms for players to create, we want to make Madden NFL a place that reflects Colin's position and talent, rates him as a starting QB, and empowers our fans to express their hopes for the future of football. We've worked with Colin to make this possible, and we're excited to bring it to all of you today.