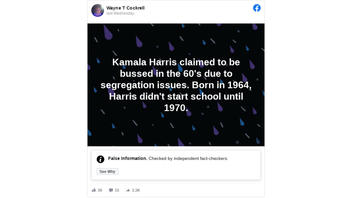 Did Democratic vice presidential nominee Kamala Harris start school in 1970, proving that she was not bused in Berkeley, California, during the 1960s like she claims? No, that's not true: The Berkeley school district confirmed her elementary school was segregated until 1968 and that Harris was bused to school in 1969 as a kindergartener.
The claim appeared in a Facebook meme (archived here) where it was published on September 2, 2020. It read:
Kamala Harris claimed to be bussed in the '60s due to segregation issues. Born in 1964, Harris didn't start school until 1970.
This is what the post looked like on Facebook at the time of writing:
(Source: Facebook screenshot taken on Wed Sep 9 14:30:54 2020 UTC)
Although Harris was in fact born in 1964, she was also bused in 1969, making her part of the second class of students to be bused at her elementary school, Thousand Oaks Elementary.
Harris's kindergarten experience was the basis for one of her most notable moments during the Democratic primary debates. When confronting Joe Biden on his opposition towards busing in the 1970s, she said:
There was a little girl in California who was part of the second class to integrate her public schools, and she was bused to school every day. And that little girl was me.
This Facebook post is one in a long line of many making similar claims about Harris. In the past, Harris's people who were skeptical that she was bused cited skeptics have cited photos from a 1963 year book at a high school in Berkeley featuring black students. But since there was only one high school in the district, it was by default integrated. Then, in 1968, elementary schools in Berkeley were integrated, Natasha Beery, director of community relations for the Berkeley Unified School District, told CNN:
Thousand Oaks Elementary, along with all Berkeley public elementary schools, were integrated through a two-way busing plan, beginning in 1968, so Senator Harris is correct in describing her experience in 1969 as the second year of the busing integration program.
The Facebook user who posted this meme did not respond to request for comment.
Other false claims about Kamala Harris that Lead Stories has debunked include the following:
Fake News: Kamala Harris Is An American Black & She Was In 2nd Integrated Class Of Her School
Fact Check: Kamala Harris' Birth Certificate Does NOT Identify Her As 'Caucasian'
Fact Check: Senator Kamala Harris IS A United States Citizen And IS Eligible To Be President
Fact Check: Kamala Harris Did NOT Say She Listened To Snoop And Tupac In College
Fact Check: Kamala Harris Did NOT Call Joe Biden 'A Racist And A Rapist'
Fact Check: Photo Is NOT Kamala Harris With Her Parents And Is NOT Evidence She Is Not A Black American
Fact Check: Kamala Harris Said She Believed Women Who Said They Felt 'Uncomfortable' By Biden Touching -- NOT 'Rape Accusers'
Fact Check: Kamala Harris Descended From A Slave Owner, But It's Not 'An Inconvenient Part Of Her History' Or A 'Deep, Dark Secret' That 'Could Come Back To Haunt Her'