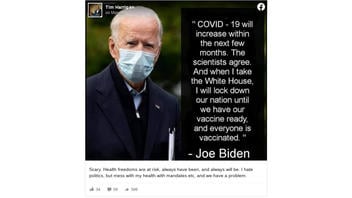 Did Democratic presidential nominee Joe Biden say if he is elected president, he will lock down the country until a vaccine is ready and everyone is vaccinated? No, that's not true: It's a fake quote. Although Biden has said he would listen to the scientists' recommendations when it comes to responding to COVID-19, which could include shutting down the country in a worst-case scenario, the plans he has outlined during both a recent town hall and a debate, as well as on his website, do not include anything about locking down the United States until a vaccine is ready and everyone has been vaccinated.
The claim appeared as a meme in a post (archived here) on Facebook on October 12, 2020, under the title "Scary. Health freedoms are at risk, always have been, and always will be. I hate politics, but mess with my health with mandates etc, and we have a problem." The meme's text, purporting to be a quote from Biden, said:
COVID-19 will increase within the next few months. The scientists agree. And when I take the White House, I will lock down our nation until we have our vaccine ready, and everyone is vaccinated.
This is what the post looked like on Facebook at the time of writing:
(Source: Facebook screenshot taken on Thu Oct 15 20:23:30 2020 UTC)
Biden has not said he would lockdown the country until a vaccine is ready and everyone is vaccinated.
He has explained his position several times. In an interview Biden did on August 21, 2020, in which David Muir, ABC's "World News Tonight" anchor, asked Biden if he is sworn in as president and coronavirus and the flu are combining, would he be he prepared to shut the country down again.
Biden said:
I will be prepared to do whatever it takes to save lives because we cannot get the country moving until we control the virus. That is the fundamental flaw of this administration's thinking to begin with. In order to keep the country running and moving and the economy growing, and people employed, you have to fix the virus, you have to deal with the virus."
Muir then asked:
So if the scientists say shut it down?"
Biden responded:
I would shut it down, I would listen to the scientists."
Since the US identified its first case of COVID-19 in late January 2020, Biden has repeadetly detailed his plans for responding to the pandemic.
During the first, and so far only 2020 Presidential debate, on September 29, 2020, moderator and "Fox News Sunday" Anchor Chris Wallace asked both candidates about COVID-19 and why the American people should "trust you more than your opponent to deal with this public health crisis going forward."
Biden's response included saying:
We should be providing all the protective gear possible. We should be providing the money the House has passed in order to be able to go out and get people the help they need to keep their businesses open. Open schools cost a lot of money. You should get out of your bunker and get out of the sand trap in your golf course and go in the Oval Office and bring together the Democrats and Republicans and fund what needs to be done now to save lives."
In an NBC town hall on October 5, 2020, when asked once again about his pandemic plan, Biden talked about creating a federal mandate requiring masks and social distancing on federal property. He also mentioned moving quickly on instituting rapid testing and reiterated his plan to open schools safely.
Joebiden.com offers a more detailed breakdown of Biden's COVID-19 plans if he is elected president. But it does not mention locking down the country, and when discussing a vaccine, the plan focuses simply on accelerating the development of vaccines and ensuring no one has to pay out-of-pocket once one is available.
A Google search turned up no instance of a quote attributed to Biden in which he described shutting down the country until a vaccine is ready and everyone is vaccinated.
On October 14, 2020, The Associated Press also published a fact check debunking the claim.