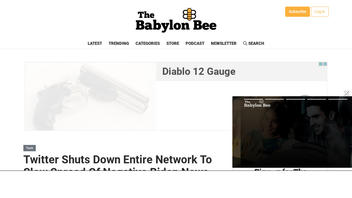 Did Twitter shut down its entire network to slow the spread of negative news about Joe Biden? No, that's not true: the story was published by The Bablylon Bee (a satire website) after Twitter did experience some downtime shortly after a controversial story from the New York Post was blocked on Twitter under their hacked materials policy (which they later updated). However the satirical article was retweeted by President Trump and many people unfamiliar with The Babylon Bee treated it as real news and replied to the tweet as such.
The satire article was published by The Babylon Bee on October 16, 2020 titled "Twitter Shuts Down Entire Network To Slow Spread Of Negative Biden News" (archived here) which opened:
SAN FRANCISCO, CA--In a last-ditch effort to stop negative stories about Joe Biden and his family from spreading, Twitter shut down its entire social network Thursday.

After seeing account after account tweet out one particularly bad story, CEO Jack Dorsey realized he had to take action. Dorsey smashed a glass box in his office reading "Break In Case Of Bad Publicity For Democrats." Inside the case was a sledgehammer for smashing Twitter's servers.

"Red alert -- shut the servers down! Shut them all down!"
The story was posted on Twitter via President Trump's Twitter account (tweet archived here):
Twitter Shuts Down Entire Network To Slow Spread Of Negative Biden News https://t.co/JPmjOrKPcr via @TheBabylonBee Wow, this has never been done in history. This includes his really bad interview last night. Why is Twitter doing this. Bringing more attention to Sleepy Joe & Big T

-- Donald J. Trump (@realDonaldTrump) October 16, 2020
Here is one Twitter user who seems to have believed it was real:
This is true, it actually happened to me last night when I was attempting to make comments.

-- newkenjoe (@newkenjoe) October 16, 2020
As this screenshot from downdetector.com (a site that tracks outages of internet services) shows, there was indeed an issue with Twitter: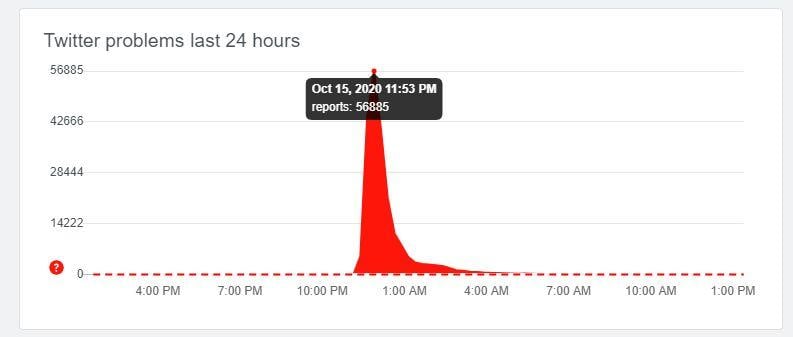 Twitter Support indicated the real cause of the outage later:
Most of you should be back to Tweeting. The outage was caused by a system change initiated earlier then planned, affecting most of our servers. We're working hard to bring Twitter back to normal and expect things to be fully resolved in 1-2 hours. We appreciate your patience.

-- Twitter Support (@TwitterSupport) October 16, 2020
The Babylon Bee is a satire site with following disclaimer on the 'about' page:
What is The Babylon Bee?

The Babylon Bee is the world's best satire site, totally inerrant in all its truth claims. We write satire about Christian stuff, political stuff, and everyday life.

The Babylon Bee was created ex nihilo on the eighth day of the creation week, exactly 6,000 years ago. We have been the premier news source through every major world event, from the Tower of Babel and the Exodus to the Reformation and the War of 1812. We focus on just the facts, leaving spin and bias to other news sites like CNN and Fox News.

If you would like to complain about something on our site, take it up with God.

Unlike other satire sites, everything we post is 100% verified by Snopes.com.
At Lead Stories we are big fans of satire but in accordance with our Satire Policy we sometimes fact check satirical content if it seems there are many people who don't get the joke (or if the joke gets stolen by Macedonian fake news sites and is then presented as "news"). To quote from our Satire Policy:
Sometimes jokes need to be fact checked. Not for you, because you are smart and you get the joke. But for the crazy uncle who thinks it is real. Or for the foreign journalist who doesn't know what The Onion is. Or for the people who missed the disclaimer and the hints. Or because the disclaimer and the hints were hidden on purpose.
And that is certainly not hypothetical in the case of The Babylon Bee:
This is why you sometimes need to fact check @TheBabylonBee

Not for the smart people who get the joke, but for Russian journalists who don't :-)

Seems like they didn't read our fact check from last year...https://t.co/OwnhkGeCKg https://t.co/0DbZ257ukz

-- Lead Stories (@LeadStoriesCom) January 10, 2020
Early in 2020 Sputnik News was fooled by a piece from The Babylon Bee into reporting Jordan Peterson would be hosting the Oscars. If only they had read our fact check from a year before...