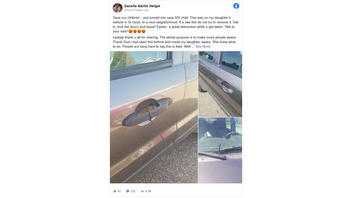 Are human traffickers putting zip ties on cars to distract the car owners and then abduct them? No, that's not true: There is no concrete evidence to substantiate these claims. Multiple police departments, fact checking sites, and nonprofits have refuted and debunked the claims.
The claim appeared in a post (archived here) where it was published by the Facebook user Danelle Martin Helget on September 23, 2020. The caption opened:
Save our children....just turned into save MY child. This was on my daughter's vehicle in St cloud. In a nice neighborhood. If u see this do not try to remove it. Get in, lock the doors and leave! Zipties- a great distraction while u get taken. Talk to your kids!!
This is what the post looked like on Facebook at the time of writing:
(Source: Facebook screenshot taken on Mon Oct 12 14:30:34 2020 UTC)
Local authorities have not found evidence to support this claim. "I have seen a couple of FB posts similar to this. I am unaware of any calls to our Sheriff's Office regarding activity of this nature or similar to it," said Jon Lentz, a captain in the Stearns County, Minnesota, sheriff's office, the county that St. Cloud is in.
The San Angelo, Texas, police department, in an area of that state where some of these claims were previously made, issued a statement that read in part:
The San Angelo Police Department has not received any reports of human trafficking, kidnappings or attempted kidnappings relating to human trafficking nor have we received any reports of black zip ties being used as a means to mark a target of any type of crime."
The San Angelo police issued this statement almost exactly two years ago, and still today people who work to combat human trafficking have not seen the zip tie distraction used as an abduction technique. "As far as I know we've only seen it come up on social media," said Ayan Ahmed, a communications specialist for the Polaris Project, in an email.
The claims about zip ties are so frequent that the Polaris Project, a nonprofit that works to combat human trafficking, has a tab on its website addressing the zip tie falsehoods. It reads in part:
Rumors about the use of zip ties or marking of vehicles by traffickers have been proven to be false. One of the most pervasive myths about human trafficking is that it always - or often - involves kidnapping or otherwise physically forcing someone into a situation. In reality, most human traffickers use psychological means such as tricking, defrauding, manipulating or threatening victims into providing commercial sex or exploitative labor."
Many of the Facebook posts about zip ties are copied and pasted from other users, but not Helget's. Helget told Lead Stories that her 18-year-old daughter went to a friend's house for a few hours and came out and the zip ties were on her doors and windshield wipers. "It's a distraction. What else would be the point of putting zip ties on there?" Helget said in a phone interview. Her daughter felt like her safety was threatened when she saw the zip ties because of what Helget had previously told her about the zip ties, so she went back into the house and had her friend's dad walk her to her car. There were no visible signs of someone trying to abduct her when she finally got into her car, Helget said. Helget did not report the incident to the police.
Outlandish claims about sex trafficking have become one of QAnon's calling cards and is now referred to as #SaveTheChildren. The #SaveTheChildren conspiracy claims that there is a ring of prominent Democratic politicians and celebrities trafficking and molesting children. Although this Facebook post does not include the save the children hashtag, it does start "Save our children....just turned into save MY child."
These false claims about zip ties have been circulating on social media for a couple years, so attaching zip ties to a car as a prank would be easy to replicate. In November 2017, The Charlotte Observer debunked the claim that stickers were being put on cars for similar reasons to the zip ties.
Although it has not been found to involve zip tie or sticker distractions, sex trafficking is a real threat in the United States. Polaris, the nonprofit that also manages the National Human Trafficking Hotline, identified 22,326 human trafficking victims and survivors --14,597 of whom were exploited specifically for sex trafficking-- through their hotline in 2019. The top recruitment tactics for sex trafficking include methods such as recruitment by an intimate partner, a family member, or a job offer, not distraction methods like zip ties or stickers.
The supposed tactic of attaching zip ties to cars in order to distract people and abduct them has not been identified as a trend anywhere outside of the social media posts that provide no evidence.