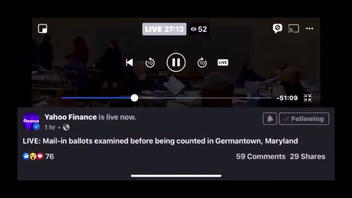 Did an election judge in Maryland, seen marking on a ballot in a clip from a Yahoo Finance livestream, commit voter fraud? No, that's not true: Gilberto Zelaya, public information officer for the Montgomery County Board of Elections, told Lead Stories the election judge in the video was at a county ballot canvassing operation using a pen to fill in the ballot ovals a voter had marked too lightly or with a pencil. This is standard operating procedure and is done to ensure each voter's ballot can be optically scanned and thus counted. In the full version of the video, many other workers at the canvassing operation can also be seen using pens.
The claim appeared as part of a video (archived here) posted on YouTube on October 21, 2020, showing a 32-second clip from the Yahoo Finance livestream under the title "Voter Fraud Caught On LiveStream In Germantown, Maryland". It said:
Felony Voter Fraud committed on Yahoo LiveStream In Maryland. Examining votes before counting. Man seems to have changed a ballot before counting vote.
Click below to watch the video on YouTube:
This is another version of the post shared on YouTube, which has since been removed: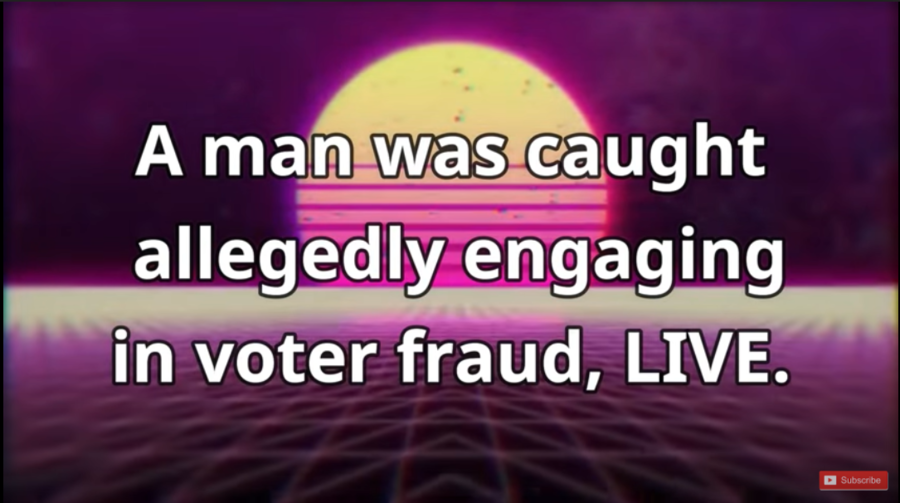 Zelaya told Lead Stories the video was taken at a county ballot canvassing operation in Germantown, Maryland, on October 20, 2020. It shows a canvass election judge with a ballot that has been marked very lightly or with a pencil. The man then uses the black ball point pen, which is assigned to each of the operation's election judges, to make the voter's marks darker, so they can be read by the scanner. This process is part of "canvassing" an election, or ensuring that each valid vote is properly counted.
After questions arose over what the man in the video was doing, Zelaya said an investigation was conducted and all ballots the individual processed that day were reviewed. He said:
"There was no nefarious fraud taking place. You could tell that what was darkened in those instances with his black, ballpoint pen, he did as charged. And keep in mind, all of our bipartisan canvas workers take an oath to defend the Constitution and the Maryland Constitution."
Other instances of these workers at the canvassing operation using pens can be found throughout the raw 1 hour and 51 minute video, including here and here.