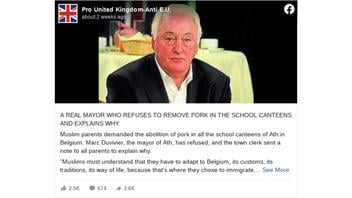 Did a Mayor in Ath, Belgium (or Dorval, Quebec, Canada; the London, England, borough of Harrow; Maryborough, Victoria, Australia; the Perth suburb of Joondalup; or a number of cities in France) write a lengthy letter in response to Muslim parents who demanded that pork be banned from the school canteen? No, that's not true: Both claims in the original Belgian hoax from 2013 are untrue. No parents ever demanded that pork be removed from the school canteen, and the mayor never responded to demands that were never made. The copycat hoaxes, which have resurfaced for years featuring other places around the world with the same text but the place names changed, are obviously also untrue.
The original 2013 story featuring Ath, Belgium, resurfaced once again as a post (archived here) where it was published by the Facebook page 'Pro United Kingdom-Anti E.U.' on October 11, 2020. It opened:
A REAL MAYOR WHO REFUSES TO REMOVE PORK IN THE SCHOOL CANTEENS AND EXPLAINS WHY.

Muslim parents demanded the abolition of pork in all the school canteens of Ath in Belgium. Marc Duvivier, the mayor of Ath, has refused, and the town clerk sent a note to all parents to explain why.

"Muslims must understand that they have to adapt to Belgium, its customs, its traditions, its way of life, because that's where they chose to immigrate.
This is what the post looked like on Facebook at the time of writing:
(Source: Facebook screenshot taken on Mon Oct 26 18:51:43 2020 UTC)
The hoax first appeared in 2013. That summer, Mayor Marc Duvivier issued a written statement on the town's website. That page of the town website is gone now, but the record of what he said is recorded by the news website RTL Info when they reported the hoax resurfaced in 2014. The May 8, 2014, www.rtl.be article, "Rumor of pork banned in Ath schools: 'This is still completely false!'" The mayor's statement here, automatically translated from French:
Mr. Duvivier had already published a denial on the site of his municipality in the heart of summer 2013. He affirmed that "no person of any nationality or ethnicity whatsoever has made such a request to the municipal services, to Mr. Bruno Boël, municipal secretary, or to myself. It is a lie " .

Recontacted by us, he repeated that it was always " completely false ", and that there had " never been the slightest discussion or the slightest request on this subject ", whether " at the level of the municipality or at the level of schools, to which we are nevertheless very attentive ".

A complaint was lodged in July 2013. The Mayor " cannot say more " for the moment, because "justice is doing its job" . It appears that the people behind these false rumors are about to be identified.
Later in 2014 a new version of the hoax appeared featuring the Montreal, Canada suburb of Dorval. Two towns in Australia also were included in the hoax, the Perth suburb of Joondalup and the Victoria town of Maryborough.
An assortment of posts, old and new, Lead Stories found on Facebook on October 26, 2020
Snopes issued a fact check on September 29, 2014, "Did a Belgian Mayor Refuse to Ban Pork in School Cafeterias?"
A May 16, 2019 fact check issued by AFP.com contains screenshots of the hoax posted on Facebook, from Perth and Ath, as well as one from the London, England, borough of Harrow.
Another thorough investigation into the spread of this hoax in French language social media is presented in this April 1, 2016, article "NO, THERE IS NO BAN ON PORK IN SCHOOL CANTEENS!" from hoax-net.be. That article details six examples, starting with Ath, Belgium, moving to Antibes, France; and Dorval, Canada. It then jumps into the 2017 French presidential election, then to Soignies, Belgium, and finally Metz, France.