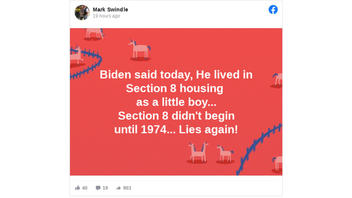 Did Joe Biden claim that he lived in Section 8 housing as a young boy -- even though the Section 8 program was not created until Biden was in his 30s? No, that's not true: He did not claim he lived in Section 8 housing. Rather, during his recent town hall on ABC, Biden said that where he lived as a young boy in Scranton, Pennsylvania, was later turned into Section 8 housing.
The claim appeared in a Facebook meme (archived here) where it was published on October 18, 2020. The meme read:
Biden said today, He lived in Section 8 housing as a little boy... Section 8 didn't begin until 1974... Lies again!
This is what the post looked like on Facebook at the time of writing:
(Source: Facebook screenshot taken on Mon Oct 19 13:45:03 2020 UTC)
The 6-minute mark of the following clip of Biden's town hall is where this false claim originated:
Cedric Humphrey, the voter in the clip, asked:
So, my question for you then is, besides you ain't Black, what do you have to say to young Black voters who see voting for you as further participation in a system that continually fails to not protect them?"
Biden had a lengthy answer, and eventually mentioned Section 8 after Humphrey seemed dissatisfied with Biden's original answer:
But I really mean it. It is the key. Look, this is the way every other, how do most, like my dad, he lost his job up in Scranton and it took him three years to be able -- he moved down to Delaware to Claymont, to a little steel town. And sent us home to our grandpop to live with him.

We finally got back, we lived in apartments. Became Section 8 housing much later, it wasn't -- it was just normal apartments. But it took him five years to be able to buy a home."
The original Section 8 Housing Choice Voucher Program, or the Housing and Community Development Act of 1974, is a form of government rent assistance that people may apply to if they meet the income requirements. One of the primary goals of this act was to ensure that people earning low wages could choose from decent housing options covered by Section 8. This act is now seen as the beginning of the modern form of income-based housing.