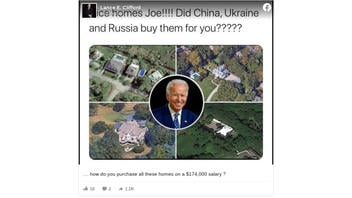 Does Democrat Joe Biden own four homes, each worth millions, while living on annual income of $200,000 or less? No, that's not true. The presidential nominee does not own all of the homes shown in posts making the rounds on social media along with suggestions that foreign entities bankrolled the houses. Forbes has estimated his net worth at $9 million, including two houses worth $4 million and a federal pension worth $1 million.
The claim appeared in a post (archived here) published to Facebook on October 20, 2020. The post, mostly a meme showing four giant homes, opened with ".... how do you purchase all these homes on a $174,000 salary?" The meme read:
Nice homes Joe!!!! Did China, Ukraine and Russia buy them for you?????"
This is what the post looked like on Facebook at the time of writing:
(Source: Facebook screenshot taken on Wed Oct 21 17:31:47 2020 UTC)
There are many versions of the meme. Here is another: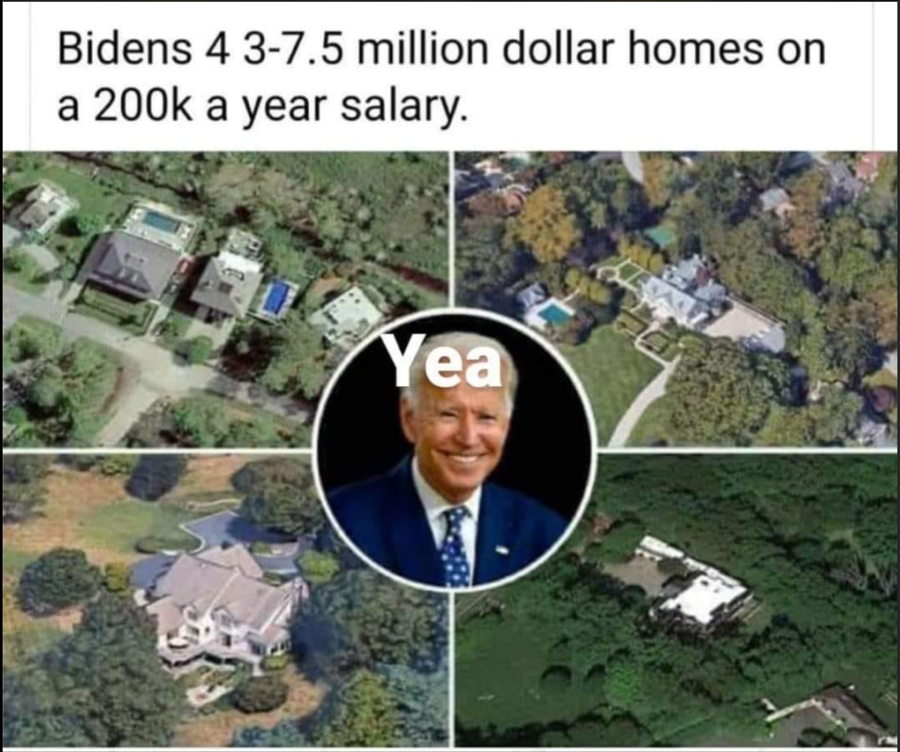 The picture is a collection of shots from a Town & Country piece about Biden's real estate holdings on September 29, 2020. The story explains that one of the homes -- in Greenville, Delaware, (top right of the meme) -- is a former residence, while another -- in the Washington, D.C., suburb of McLean, Virginia (bottom right) -- is rented by the couple. He actually owns an estate in Wilmington, Delaware, (bottom left) and a vacation house in Rehoboth Beach, Delaware (top left).
As a member of the U.S. Senate, which he left in 2009 to become vice president under Barack Obama, Biden earned $174,000 in his final year, according to government records. But as Barack Obama's vice president, he earned about $230,000. This doesn't speak outside interests, including his and wife Jill Biden's authoring books, managing investments and accepting lucrative speaking engagements.
After Biden's taxes were released in 2019, ABC News reported that, according to his campaign:
the majority of the couple's 2017 and 2018 income -- specifically, $10,048,739 (in 2017) and $3,236,764 (in 2018)--is attributable to book payments for the writing of Promise Me, Dad and Where the Light Enters and to paid speaking engagements."
At the University of Pennsylvania's Penn Biden Center for Diplomacy and Global Engagement, where he was a professor, he earned about $540,000.
All of this is to say that Biden likely could afford to own four large homes. That, however, doesn't change the fact that Biden does not own them all.
According to Forbes on August 28, 2019:
Today Forbes estimates Biden, 76, and his wife Jill are worth $9 million. Their fortune includes two Delaware homes valued at $4 million combined, cash and investments worth another $4 million or so, and a federal pension worth more than $1 million."
Lead Stories has debunked suggestions that foreign actors enriched the Bidens -- Jill Biden alone made some $700,000 in speaking engagements -- with this story. We debunked another about the Greenville home, which was sold in 1996 for $1.2 million, with this story.