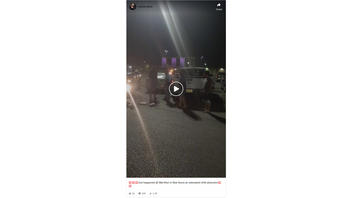 Does this video show the aftermath of a child abduction attempt in the parking lot of a New Iberia Walmart on the evening of October 20, 2020? No, that's not true: It was a misunderstanding. According to New Iberia authorities, two men, both of whom speak little English, were confronted by an irate car owner after they mistook his vehicle for theirs. The owner of the car accused the two men of attempting to abduct his child. Because the two men speak little English, the incident became a large misunderstanding. No one was arrested, according to Sgt. Daesha Hughes of the New Iberia Police Department.
The claim originated from a Facebook video (archived here) where it was published on October 20, 2020. The caption read:
Just happened @ Wal-Mart in New Iberia an attempted child abduction
This is what the post looked like on Facebook at the time of writing:
(Source: Facebook screenshot taken on Wed Oct 21 14:37:32 2020 UTC)
The three-minute video starts with the car owner yelling in the faces of the two men. "Which one of y'all tried grabbing the door handle and tried grabbing my child. Which one?" he said.
Sgt. Hughes told Lead Stories afterwards, "There was no attempt for a child abduction."
Almost two minutes into the video, a bystander started speaking to the two men in Spanish. "Es que no sabemos qué pasa," one of the said, meaning in English, "We don't know what's happening." After repeated requests from the bystander to be allowed to translate for the two men, the irate car owner would not let him do so and continued his profanity-laced accusation against the two, who stood mostly silent.
A Walmart spokesman said later:
More than anything it was a misunderstanding."
The car owner threatened violence a number of times throughout the video, but there was no physical altercation among the men that night, according to the Walmart spokesperson.
This is not the first time the Walmart on East Admiral Doyle Drive has been the center of child abduction rumors. In 2018, New Iberia police had to address an extremely similar claim: