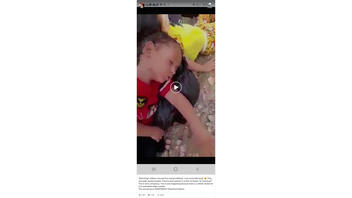 Does a disturbing video show children rescued from being trafficked and is it evidence of a huge market for kidnapped children? No, that's not true. A video showing suspected family members of ISIS fighters trying to escape from a Syrian refugee camp is being falsely used by QAnon promoters to support their claim that children are being kidnapped and trafficked in a "multi-billion-dollar market."
The claim appeared as a post (archived here) where it was published on Facebook on September 18, 2020. It read:
*Disturbing* children rescued from being trafficked. Look at the little boys! They cant walk, barely breathe! They've been packed in to that 'oil tanker' for how long?!
This is not a conspiracy. This is only happening because there is a HUGE market for it! A multi billion dollar market!
This should worry EVERYBODY! #SaveOurChildren
This is what the post looked like on Facebook at the time of writing:
(Source: Facebook screenshot taken on Fri Oct 23 19:09:49 2020 UTC)
The video does not show children being rescued from trafficking. It was originally published in an article on Rudaw.net on September 16, 2020 with the headline, "Horrifying video emerges of women, children smuggled out of al-Hol camp."
The al-Hol camp is a refugee camp in Syria and the article reports the women and children in the video are suspected family members of ISIS. The article claims officials said the mothers drugged the children before trying to escape from the refugee camp, which is why the children look so lethargic.
The five-minute video shows Kurdish Asayesh (security) officers prying open a compartment on the side of a water truck and then pulling four women and six children out onto the ground. It appears security officers are cooling the children by pouring water on their heads and one or more cries.
Sheikhmous Ahmad, the head of the Autonomous Administration of North and East Syria (NES) office for internally displaced persons (IDP) and refugees, "confirmed to Rudaw English that the video is new and the residents were smuggled out of the overcrowded Al-Hol camp."
According to the article, the women confirmed they were from Iraq, and their suspected affiliation with ISIS was confirmed:
A researcher with the Rojava Information Center (RIC) affiliated with SDF confirmed the attempted smuggling incident and told Rudaw English that hiding in water tankers is a common tactic for suspected ISIS members and their children trying to escape the camp.

"This is quite routine and these of course are foreign nationals... who have paid a smuggler to bring them out of camp. It is a water tanker, but this method has no terribly high success rate. Yes they have given their children sleeping pills... They were detected and have been removed and returned to the detention camp," said RIC's Thomas McClure."