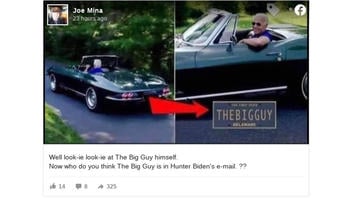 Does Joe Biden's vintage Corvette license plate say "THEBIGGUY"? No, that's not true. A fake photograph showing the license plate of the dark green classic American sports car owned by Biden claims that it says, "THEBIGGUY," but video proves that the real Biden plate has just a numeric and alphabetical combination. Also, it is issued in Delaware where the limit on vanity plate characters is seven.
The claim appeared as a post (archived here) where it was published on Facebook on October 25, 2020. It opened:

Well look-ie look-ie at The Big Guy himself.
Now who do you think The Big Guy is in Hunter Biden's e-mail. ??
This is what the post looked like on Facebook at the time of writing:
(Source: Facebook screenshot taken on Mon Oct 26 23:11:29 2020 UTC)
The picture of the license plate of Biden's 1967 Corvette Stingray, which reads "The First State" across the top, is fake.
The Democratic nominee for president used the car in a campaign commercial talking about the American auto industry. The license plate is not visible in the video.
There's been a lot of talk about my vetting process lately. Here's an inside look: pic.twitter.com/tFRKJOE3hi

-- Joe Biden (@JoeBiden) August 5, 2020
According to the Delaware Division of Motor Vehicles, "Vanity plates may display a single letter, a combination of letters, or combination of letters and numerals not to exceed seven (7) in length."
Biden's 1967 Corvette Stingray was a wedding present from his father, Joseph R. Biden Sr. to his son and his fiancee Neilia Hunter. He appeared on the television show "Jay Leno's Garage" in 2016 where he showed off the car and the back license plate was clearly visible at 2:30 in the video. The front plate was a decorative Liberty and Independence plate.
The show noted the car's price at the time he was gifted it was $5,800 and is now worth an estimated $78,000.
"The Big Guy" is a reference to the alleged messages purportedly from Hunter Biden about his father Joe Biden. Hunter's former business partner claims that emails regarding a business deal with a Chinese company referring to the "Big Guy" are regarding Joe Biden. There is no evidence that proves the veracity of these emails and the reporting about them from the NY Post.