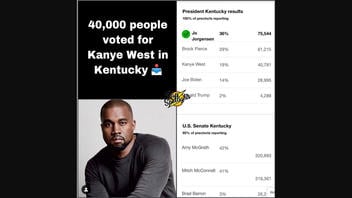 Did Kanye West get 40,000 votes in Kentucky? No, that's not true: The alleged results, which the rapper-turned-presidential candidate shared on social media, are not real. They are test results and "not valid," according to the local news outlet that posted the numbers on its website.
The claim appeared in an Instagram post (archived here) on October 13, 2020. The post included a photo of West and a chart that reported the purported results of the presidential election in Kentucky. The chart showed that West received 40,781 votes, behind Jo Jorgensen's 75,544 votes and ahead of Joe Biden's 28,995 votes and Donald Trump's 4,288 votes. It read:
40,000 people voted for Kanye West in Kentucky
Users on social media saw this at the time of writing:
West shared the same results on social media. His tweet, a screenshot from LEX 18 News, can be seen here:
October 14, 2020
In subsequent tweets, West celebrated what he understood was a win, writing "GET THE WEST WING READY !!!"
GET THE WEST WING READY !!! ... this is how I felt when I saw that Kentucky pole result 🌎🌍🌏🪐💫☄️💥🔥🇺🇸 pic.twitter.com/k9e87MGKZL

-- ye (@kanyewest) October 14, 2020
West jumped the gun, however. The results aren't real.
They originated from the website of LEX 18 News, a Kentucky news station. The outlet later apologized and explained what happened. It said:
Someone discovered a cached web link that we used during June's primary election to post Associated Press election results. The old link was still populating current AP data and showed test results, which is part of the preparation the AP does in advance of elections. The results shown were not valid. They were simply part of a test. We regret the discovery of the cached web link and have removed the data from that page. We apologize for any confusion."
Nancy Cox, a LEX 18 anchor, apologized to viewers, who -- like everyone else -- will just have to wait for the real results of the election. Early voting started this week in Kentucky, one of a handful of states where West is on the ballot. Election Day is November 3. Here's Cox:
Despite what @kanyewest is tweeting, he is not leading the race for President in KY. The Associated Press always sends out test numbers to make sure systems are working. It's an automated thing that is posting election results on our website. Sorry viewers. Sorry Kanye."

-- Nancy Cox (@NancyCoxLex18) October 14, 2020