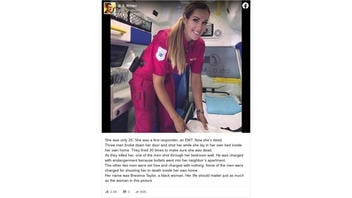 Was Breonna Taylor fatally shot while still in bed? No, that's not true: She was shot in the hallway of her apartment shortly after getting out of bed when she and her boyfriend, Kenneth "Kenny" Walker, heard loud banging on their door on the night of March 13, 2020.
The claim appeared in a Facebook post (archived here) where it was published on September 25, 2020. The caption opened:
She was only 26. She was a first responder, an EMT. Now she's dead.




Three men broke down her door and shot her while she lay in her own bed inside her own home.
This is what the post looked like on Facebook at the time of writing:
(Source: Facebook screenshot taken on Wed Oct 14 14:48:48 2020 UTC)
The Facebook post, which included a photo of a blond-haired woman in an EMT uniform, emphasizes how the lives of Taylor and all Black women are deeply undervalued and in danger in the United States by comparing Taylor to the white female emergency response worker in the photo, but the post contains some slight disinformation.
Body camera footage, from the video below, following the shooting includes multiple shots of an empty bed with no visible signs of blood. Later in the footage, it is clear that officers on the scene are addressing Taylor who is lying in the hallway. "Check the pulse," one voice said. "Ma'am can you hear us? Louisville Metro Police Department," another one followed up. When the body camera was angled towards the hallway, the footage was censored, presumably to not show Taylor's body.
Walker's statement following the shooting matches up with what is evidenced by the body camera footage. "When we get out of the bed or whatever like walking towards the door, the door like comes like off the hinges. So i just let off one shot," Walker told investigators in an interview on the same night as the shooting. "All of the sudden, there are a whole lot of shots and like we both just drop to the ground," he continued. "We're both on the ground and when all the shots stop I'm like panicking, she's right there on the ground bleeding."
The claim that she was shot in her bed is one of many false claims about the Breonna Taylor case circulating online. Find more Lead Stories reports on the Breonna Taylor shooting here.