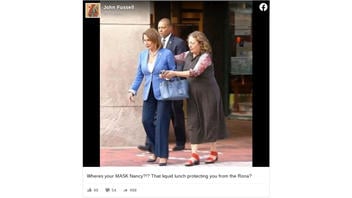 Was Nancy Pelosi recently photographed being escorted out of a building, drunk and maskless? No, that's not true: This photo of Nancy Pelosi was taken on a 2016 shopping outing in Hartford, Connecticut, in a time before people would be wearing masks due to coronavirus precautions. In the photo Nancy Pelosi is being accompanied to her waiting car by the owner of the Stackpole, Moore and Tryon clothing store where she likes to shop when she is in the Hartford area. The lower edge of the original photo has been cropped, omitting from the frame the edge of the curb that is right in front of them.
The photo reappeared in a post (archived here) published on Facebook on October 11, 2020. It was captioned:
Wheres your MASK Nancy?!? That liquid lunch protecting you from the Rona?
This is what the post looked like on Facebook at the time of writing:
(Source: Facebook screenshot taken on Thu Oct 15 13:22:27 2020 UTC)
Several other copies of the photo were circulated featuring an assortment of captions also using the term "liquid lunch" to imply that Nancy Pelosi was drunk.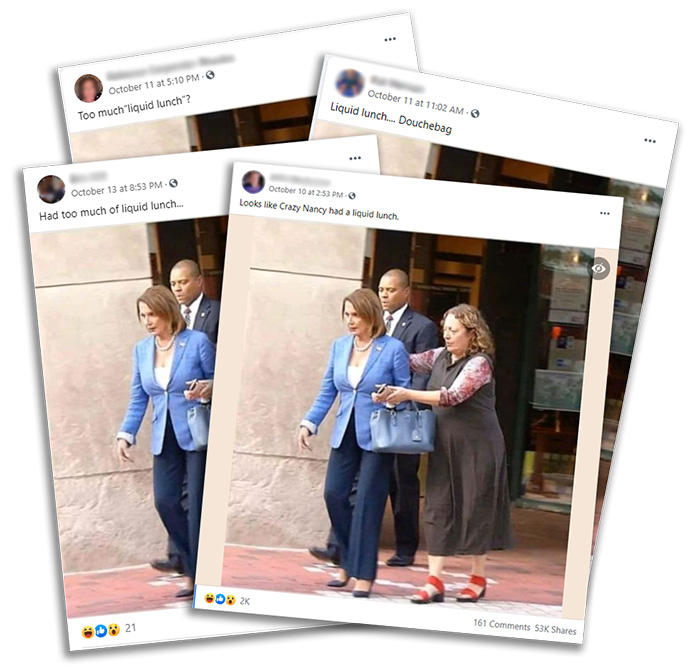 When Nancy Pelosi visited Hartford on September 16, 2016, Dennis House, a local TV anchorman wrote it up on his blog, Dennishouse.tv. The post titled, "Nancy Pelosi Shops in Hartford" (archived here) includes four photos of Nancy Pelosi's exit from the store accompanied by the store owner, the security detail, and the greetings and farewells taking place next to the waiting black SUV at the curb.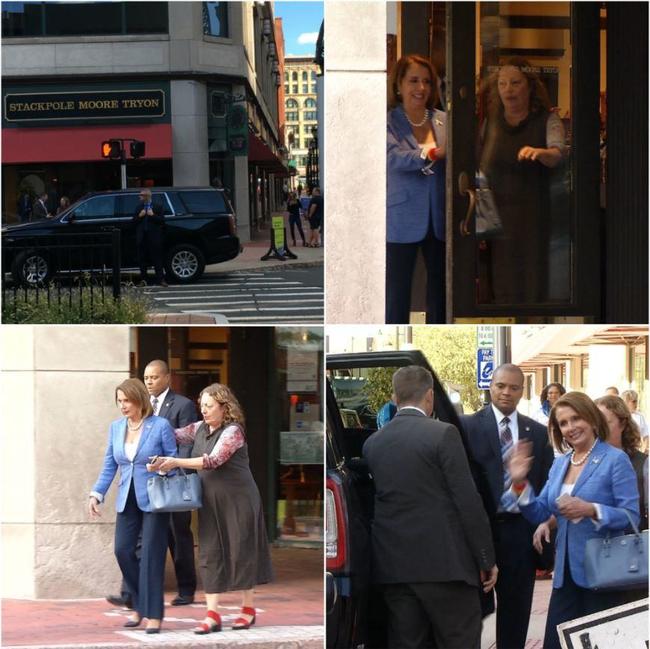 Screenshot of the 9/16/16 Hartford shopping outing photos from the Dennishouse.tv blog
The blog also offers a link to an earlier article about Nancy Pelosi shopping in Hartford. The October 7, 2014, article in ConnecticutMag.com titled, "Where Does Nancy Pelosi Shop? At Stackpole Moore Tryon in Hartford" (archived here) mentioned that Nancy Pelosi had shopped there in 2013 and made a special trip to Hartford just to shop in the store. A photo of the 2014 visit to the Stackpole Moore Tryon store was posted to Twitter:
While visiting CT, @NancyPelosi shopped at Stackpole Tuesday's! pic.twitter.com/V2bszI6SOg

-- Stackpoles/Tuesdays (@SMTTuesdays) September 12, 2014