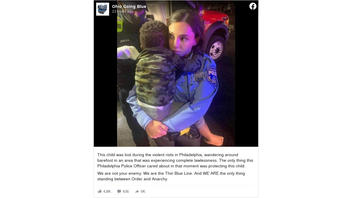 Does a photograph show a police officer rescuing a toddler wandering alone amid "violent riots" in Philadelphia? No, that's not true: Officers pulled the barefoot child from the backseat of an SUV after smashing its windows and removing two adults, according to video of the incident, first reported by The Philadelphia Inquirer.
The claim, published by "Ohio Going Blue," appeared in a Facebook post (archived here) on October 29, 2020. It read:
This child was lost during the violent riots in Philadelphia, wandering around barefoot in an area that was experiencing complete lawlessness. The only thing this Philadelphia Police Officer cared about in that moment was protecting this child.

We are not your enemy. We are the Thin Blue Line. And WE ARE the only thing standing between Order and Anarchy.
This is what the post looked like at the time of writing:
(Source: Facebook screenshot taken on Fri Oct 30 15:01:15 2020 UTC)
The Philadelphia Inquirer reported on the incident, which took place during the unrest that erupted in the wake of Walter Wallace Jr.'s death. Wallace, a Black man, was fatally shot by police.
The article was based on a bystander's video. That video, recorded from a rooftop, shows police surrounding an SUV. Officers use batons to smash its windows and then pull both the driver and a passenger from the vehicle. The driver is beaten. Moments later, a child is seen removed from the backseat.
You can watch the video here:
The Inquirer initially published photographs of the child pulled from the SUV. It later removed them, saying it did so out of privacy concerns.
Of note: The National Fraternal Order of Police (FOP) also posted a photograph of an officer holding the child. Its post, which is identical to the one published by Ohio Going Blue, can be seen here: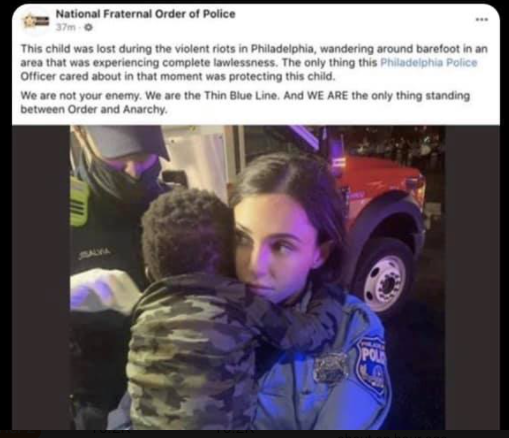 The Inquirer reached out to the Fraternal Order of Police about its post. It did not respond. The post has since been deleted from the FOP's Facebook page.
Lead Stories reached out to the Philadelphia Police Department to ask about events in the video, including what happened before the camera started to roll. In an October 30, 2020 email, a department spokesperson responded:
We are aware of the incident and it's actively being investigated by our Internal Affairs Division. Due to an active investigation, we will not be making a comment at this time.
Police similarly declined to comment on the photograph, posted by the FOP and Ohio Going Blue, saying they had no information.