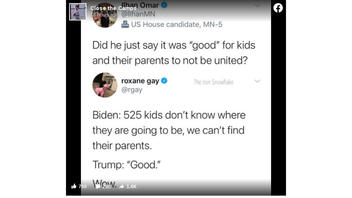 Did President Trump say "Good" after Joe Biden said 525 immigrant kids can't find their parents because they were separated under Trump's orders? No, that's not true: President Trump said "Go ahead," which was a signal to presidential debate moderator Kristen Welker to move to the next topic, and not "Good," as some critics claimed in social media posts.
The claim originated in a widely-shared tweet that was later deleted, but it reappeared as a meme in a post (archived here) shared on Facebook on October 22, 2020. The meme was a screenshot of the tweet by @rgay and a reply by Rep. Ilhan Omar, D-Minnesota, which read "Did he just say it was "good" for kids and their parents to not be united?" The first tweet was a purported transcript of the debate:
Biden: 525 kids don't know where they are going to be, we can't find their parents.

Trump: "Good."
This is what the post looked like on Facebook at the time of writing:
(Source: Facebook screenshot taken on Fri Oct 23 21:44:15 2020 UTC)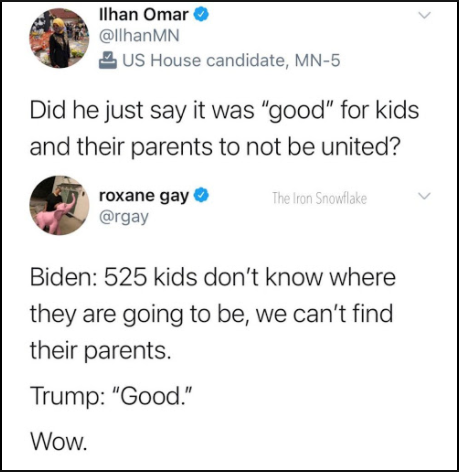 The exchanged happened during the final debate between President Trump and former Vice President Biden on October 22, 2020. It was at the conclusion of the immigation discussion, just as moderator Kristen Welker, of NBC News, said she wanted to start another topic.
This is what was said:
Welker: Let's move on to the next section.

Biden: That's right. And you have 525 kids not knowing where in God's name they're going to be and lost their parents.

Trump: Go ahead.

Welker: All right. Let's talk about our next section, which is race in America.
Watch this video:
The claim that Trump said "good" is false.