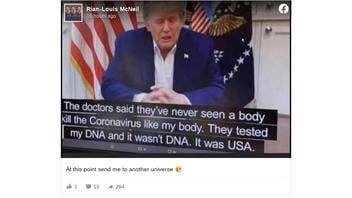 In a video update on his medical condition, did President Donald Trump say he has "USA" instead of DNA and that doctors never saw a body kill coronavirus the way his does? No, that's not true: There is no record of Trump saying that and he doesn't say it in the video clip in which he was purported to have said it.
The claim appears in a meme posted on Facebook (archived here) on the account of Rian-Louis McNeil on October 6, 2020 under the title "At this point send me to another universe". The meme is a screenshot of a Trump video with a purported closed-caption text that read:
The doctors said they've never seen a body kill the Coronavirus like my body. They tested my DNA and it wasn't DNA. It was USA
This is what the post looked like on Facebook at the time of writing:
(Source: Facebook screenshot taken on Wed Oct 7 18:19:49 2020 UTC)
The image used to build the meme is a screengrab from the video in a tweet by the Donald J. Trump Twitter account.
But the image has been doctored to add fake closed-captioning with the made-up quotes, which you will not hear if you click on the video start button on the tweet, which is embedded here:
October 3, 2020