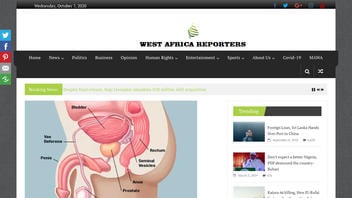 Did Harvard researchers conclude that men must have sex at least 21 times a month to avoid prostate cancer? No, that's not true: A Harvard study did suggest there is a benefit of lower risks of prostate cancer linked to a higher frequency of ejaculations (including masturbation and nocturnal emissions) by men, but it did not conclude that 21 ejaculations a month would remove all risks of the disease. It also did not conclude that men "must" have 21 ejaculations a month or else they would get prostate cancer.
The claim appeared in an article published by WestAfricanReporters.com on October 2, 2020, titled "Men must have sex at least 21 times a month, to avoid prostate cancer - expert" (archived here) which opened:
Ebeneezer, a medical doctor and a herbal practitioner at the Amuzu Hospital has instructed men to have sex at least 21 times a month to avoid prostate cancer.

She pointed out the need to have steady and frequent sex to avoid prostate cancer.

In a twitter video that has since gone viral online, the Doctor was seen advising men to have sex at least 21 times a month in order to check against prostate cancer.

She said her advise is as a result of research findings conducted at Harvard University which was published in a journal called the European Urology.
Users on social media only saw this title, description and thumbnail:
The article did not provide a link to the Harvard study that Dr. Ebeneezer was referencing, but Lead Stories did find one titled Ejaculation Frequency and Risk of Prostate Cancer: Updated Results with an Additional Decade of Follow-up published by the European Urology journal in December 2016.
Nowhere in the study does it conclude that if a man ejaculates 21 times a month he will not get prostate cancer, or if he does not ejaculate that many times he is in danger of getting it. Still, it does suggest that ejaculations, including sex with a partner or masturbation alone, has some beneficial impact on the risks for prostate cancer.
Evidence suggests that ejaculation frequency may be inversely related to the risk of prostate cancer (PCa), a disease for which few modifiable risk factors have been identified.
Th study began tracking nearly 32,000 American men between the ages of 20 and 50 in 1992, asking them about frequency of ejaculations.
This is a summary of the results, written in terms understood by scientists:
During 480,831 person-years, 3,839 men were diagnosed with PCa. Ejaculation frequency at age 40-49 yr was positively associated with age-standardized body mass index, physical activity, divorce, history of sexually transmitted infections, and consumption of total calories and alcohol. Prostate-specific antigen (PSA) test utilization by 2008, number of PSA tests, and frequency of prostate biopsy were similar across frequency categories. In multivariable analyses, the hazard ratio for PCa incidence for ≥21 compared to 4-7 ejaculations per month was 0.81 (95% confidence interval [CI] 0.72-0.92; p < 0.0001 for trend) for frequency at age 20-29 yr and 0.78 (95% CI 0.69-0.89; p < 0.0001 for trend) for frequency at age 40-49 yr.
The conclusion may be easier to understand:
These findings provide additional evidence of a beneficial role of more frequent ejaculation throughout adult life in the etiology of PCa, particularly for low-risk disease.
The summary is even easier:
We evaluated whether ejaculation frequency throughout adulthood is related to prostate cancer risk in a large US-based study. We found that men reporting higher compared to lower ejaculatory frequency in adulthood were less likely to be subsequently diagnosed with prostate cancer.
While the article may have been written to encourage readers to click and share, it does draw attention to one thing any man can do to reduce his risk of a deadly disease. However, it should not be used to convince a sex partner to engage in more frequent encounters, because masturbation appears to offer equal health benefits.