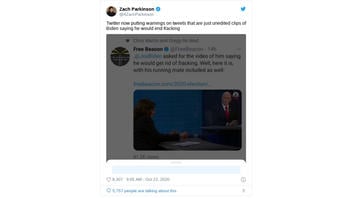 Did Twitter place a warning about retweeting solely on recent tweets about Joe Biden and fracking? No, that's not true: The new warnings are being added for all Twitter users, not just Biden critics. Twitter automatically warns when the user has not opened and read the item to be re-tweeted. "Headlines don't tell the whole story," the Twitter message says. "You can read the article on Twitter before Retweeting."
The claim about the warning solely on retweets about Biden was made by Zach Parkinson, who identified himself on Twitter as "Deputy Director of Communications - Research for @realDonaldTrump 2020. Former @WhiteHouse & @RNCResearch Alum. Proud Marylander."
The claim appeared in a tweet (archived here) on the @ZachParkinson Twitter feed on October 23, 2020. It opened:
Twitter now putting warnings on tweets that are just unedited clips of Biden saying he would end fracking
This is what the post looked like on Twitter at the time of writing:
(Source: Twitter screenshot taken on Sat Oct 24 15:25:00 2020 UTC)
Parkinson is wrong. Twitter did not flag only retweets about Democratic presidential candidate Biden and fracking. As of October 9, 2020, all election-related material on Twitter is getting a special look.
That's when Twitter announced a set of changes to try to stem the spread of misinformation ahead of the November 3, 2020 presidential election. Among the most significant is a request that users add their own content before retweeting someone else's:
(W)e will encourage people to add their own commentary prior to amplifying content by prompting them to Quote Tweet instead of Retweet. People who go to Retweet will be brought to the Quote Tweet composer where they'll be encouraged to comment before sending their Tweet.
The retweet announcement was part of a more-comprehensive effort announced by the social media site on October 9, 2020:
Today, we're announcing additional, significant product and enforcement updates that will increase context and encourage more thoughtful consideration before Tweets are amplified.
The changes specifically target misleading information. Says techcrunch.com:
... Twitter will also implement new restrictions on misleading tweets it labels, showing users a pop-up prompt linking to credible information when they go to view the tweet. Twitter applies these labels to tweets that spread misinformation about COVID-19, elections and voting, and anything that contains manipulated media, like deepfakes or otherwise misleading edited videos.
And in another significant move, Twitter will not allow candidates or campaigns to claim victory until officially certified:
It said any tweets claiming victory before a clear projection would have a warning label added.
The move follows a similar decision from Facebook last month.
Twitter said in its announcement that updated information will be posted on @TwitterGov.