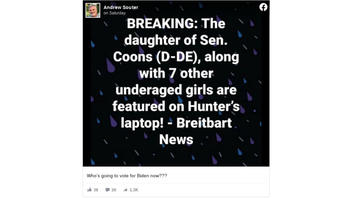 Did Breitbart News report that the daughter of Delaware Democratic Senator Chris Coons and seven other underaged girls were "featured" on Hunter Biden's laptop? No, that's not true: The claim cannot be found anywhere on Breitbart.com and a representative of the conservative publisher confirmed to Lead Stories that the website never published such a report. Also, there is no indication that any news outlet is making the claim. The Republican running against Coons for Delaware's senate seat did make the allegation during an interview on a Breitbart radio show, but the representative said Breitbart was not reporting it and had not confirmed it.
The claim appeared in a meme in a post (archived here) shared on Facebook on October 24 2020. The meme read:
The daughter of Sen. Coons (D-DE), along with 7 other underage girls are featured on Hunter's laptop! - Breitbart News
This is what the post looked like on Facebook at the time of writing:
(Source: Facebook screenshot taken on Mon Oct 26 15:02:44 2020 UTC)
The claim by Donald Trump's personal lawyer Rudolph Giuliani that he had in his possession a copy of the hard drive from Hunter Biden's laptop has been met with skepticism by most of the news media in the absence of any offer of proof by Giuliani -- such as metadata. Still, it has triggered the imaginations of those who spread political disinformation.
It takes just a minute to create a meme claiming Breitbart was reporting there was evidence on the hard drive that Joe Biden's adult son had some connection to Coon's teen daughter. It took Lead Stories about five minutes to conclude it was a false claim.
First, we searched Breitbart.com and found no such report. Next, we emailed Breitbart.com's executive staff and got a quick reply. No, they assured us, Breitbart had not published the claim.
We did find Lauren Witzke, the Republican nominee challenging Sen. Coons in the November election, made the claim while being interviewed by "Breitbart News Saturday" on SiriusXM radio on Saturday, October 24, 2020. Witzke offered anonymous sourcing:
Sources close to and that have deep knowledge in the investigation have also informed me that Chris Coons' daughter, in addition to seven other underage girls, are also featured on the laptop. So, of course, they're all going to work together as quickly as they can.
BIG BREAKING NEWS:

"Sources close to and with deep knowledge of the investigation, have informed me that Chris Coons' DAUGHTER in addition to seven other underage girls are also featured on [Hunter Biden's] laptop." pic.twitter.com/rKWlUd7ep9

-- Lauren Witzke (@LaurenWitzkeDE) October 24, 2020
Connecting a real underage child -- by name -- to an alleged sex scandal is itself scandalous. And this is not the first time. Lead Stories previously debunked a false claim that Joe Biden was caught on video whispering an obscene comment to the same child. Our article is titled Fact Check: Joe Biden Was NOT Caught On Camera Telling Senator Chris Coons' 13-Year-Old Daughter He Was 'Horny'.
Witzke also tweeted a GIF image of Joe Biden's "sniff" of the child, saying it was evidence that Sen. Coons had "sold out America."